Demon Pact "Released From Hell" LP In Stock
Classic NWOBHM release is finally available with the proper treatment courtesy of High Roller Records Germany.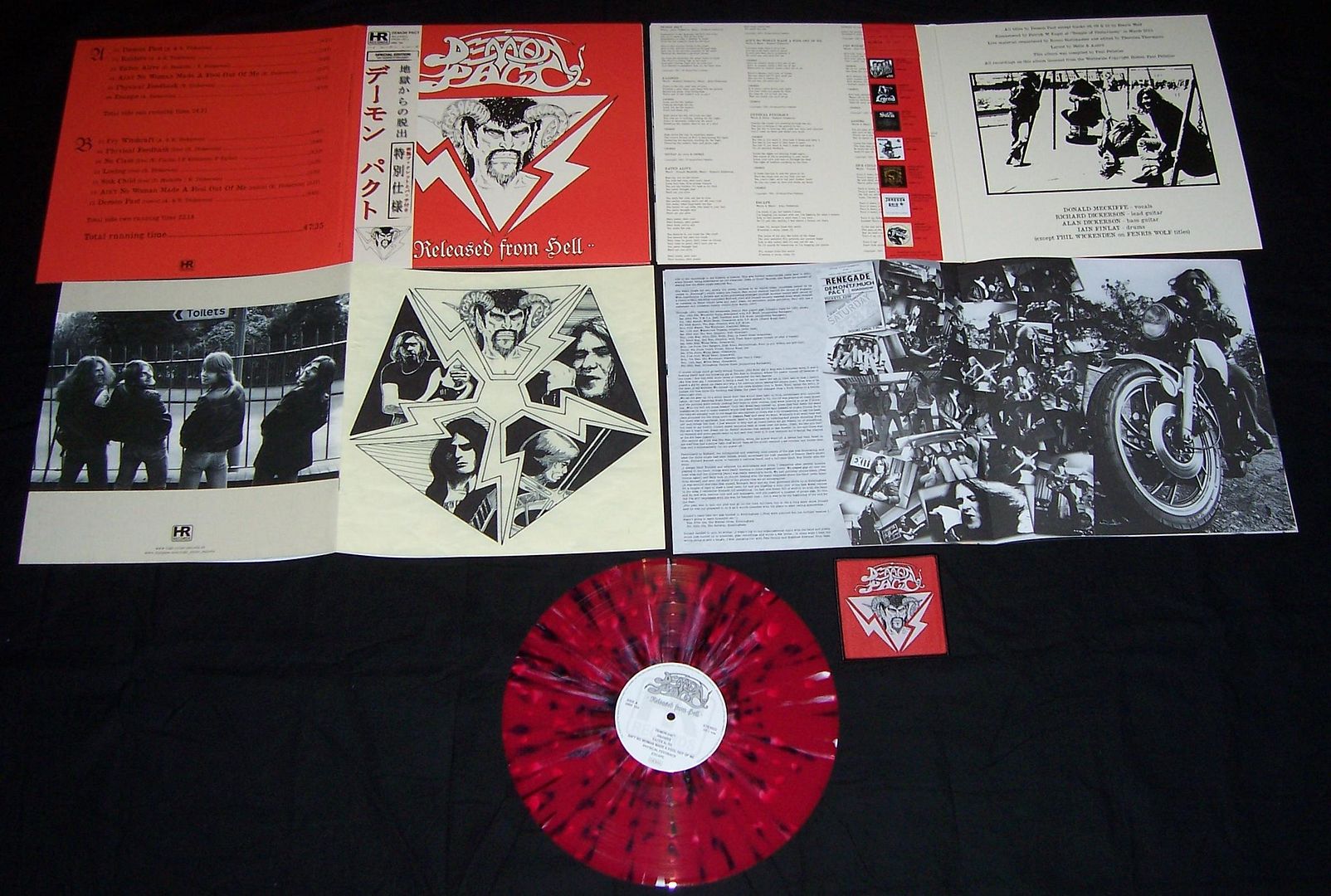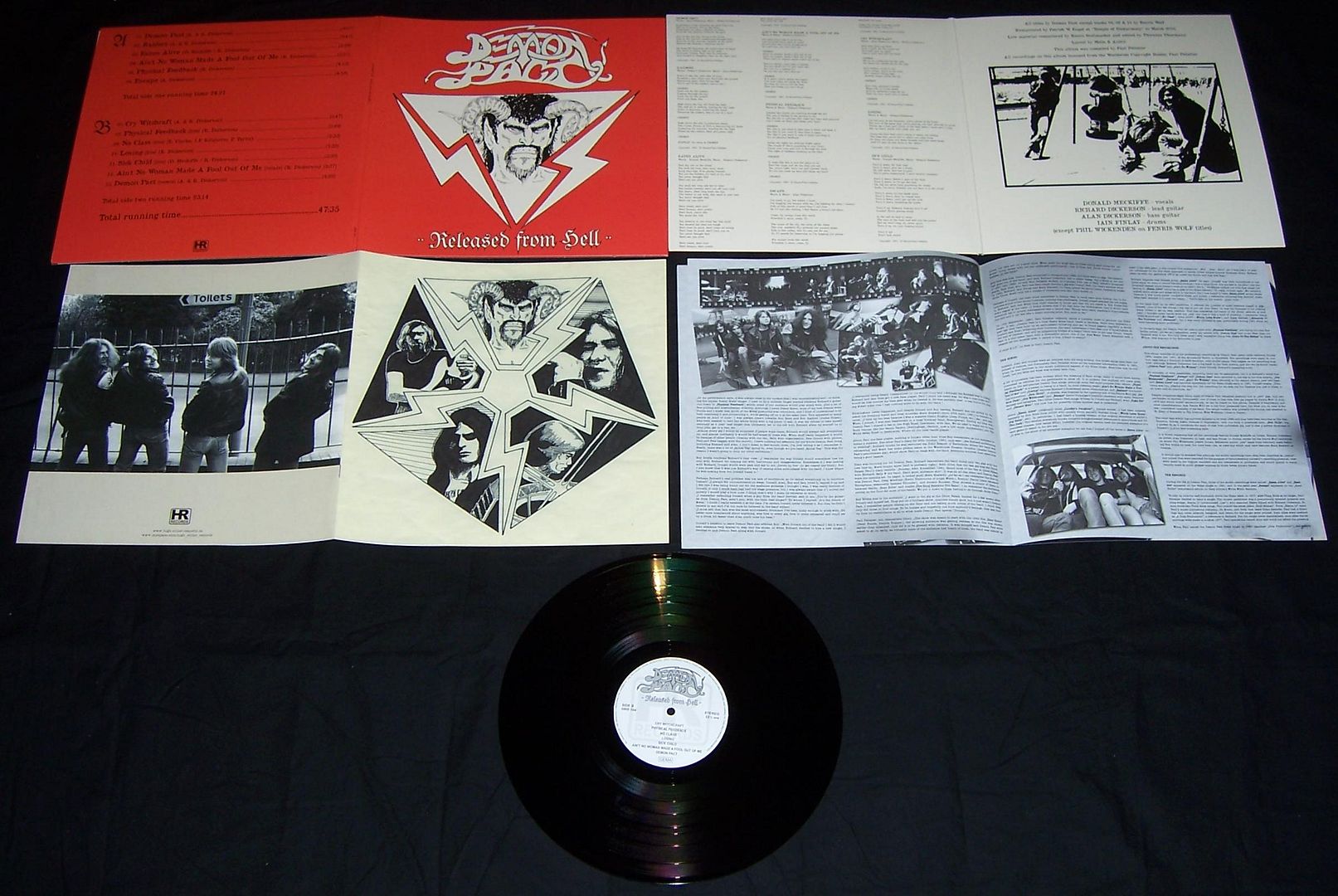 DEMON PACT – Released From Hell LP
HRR 104, limited to 750 copies, 12 page booklet, gatefold cover, 350 x black + 200 x white vinyl, 200 x die hard splatter vinyl + obi and woven patch
Donald Meckiffe – vocals
Richard Dickerson – lead guitar
Alan Dickerson – bass
Iain Finlay – drums
Phil Wickenden – drums*
-Demon Pact
-Raiders
-Eaten Alive
-Ain`t No Woman Made A Fool Out Of Me
-Physical Feedback
-Escape
-Cry Witchcraft
-Physical Feedback (live)*
-No Class (live)*
-Losing (live)*
-Sick Child (live)
-Ain`t No Woman Made A Fool Out Of Me (remix)
-Demon Pact (remix)
Demon Pact was a four-piece HeavyMetal band, regarded as one of the "New Wave Of British HeavyMetal" (NWOBHM). It began life during 1979 in Hayes, Kent, on the outskirts of London. The driving force behind the band was lead guitarist Richard Dickerson.
Originally called Fenris Wolf, all its original members attended Hayes Secondary School and their first gig was as part of an end-of-term party in a local church hall in the summer of 1979 (although Richard had left the school two years earlier). Joining Richard in the band on bass was his brother, Alan Dickerson; Donald Meckiffe handled the vocals, and Phil Wickenden played drums. Subsequently, with a name change to Demon Pact (after one of the band's own compositions), 'outsider' Iain Finlay took over on drums.
Throughout its life, Demon Pact remained a semi-professional group – its members either had other employment or were undertaking further education – and despite playing extensively in the local area and beyond, establishing a hard-core following along the way, it never managed to attract the attention of proper management or the recording business. However, through Paul Pelletier, a close friend of Richard, a single was issued in the summer of 1981 on the Slime label featuring "Eaten Alive" as the A-side and "Raiders" on the B-side. A further Demon Pact recording, "Escape", appeared on the now highly sought-after (and much bootlegged) vinyl album "Kent Rocks" issued on White Witch Records.
The Slime single received a good review in Kerrang! (No. 2, August 1981) and a surprising amount of radio play, including by Tommy Vance on his Friday Rock Show, and by John Peel. The intention to issue a further Demon Pact single on Slime was thwarted by the band's demise, although another four studio recordings had been made in addition to the three released ones.
Fraternal disagreements within the band eventually led to the departure of Alan Dickerson, replaced by Roy Bridle (whose name was quoted in Kerrang! when reviewing the Slime single, although it was Alan Dickerson who played on the single and all other Demon Pact studio recordings), and Donald Meckiffe left to pursue his academic career, replaced byMark Maxwell. Demon Pact struggled on into 1982, but eventually Richard Dickerson, exhausted by hustling for gigs and general disenchantment, broke the group up and joined Opera as its bass player. Iain Finlay subsequently went on to play with Running Wild (band), Justice (German band), Kruiz, etc.
Many years later, a red vinyl bootleg of the original Slime single was issued in Argentina(?), and an unauthorised vinyl album of stolen studio recordings appeared on Hades Paradise. Following a recent agreement (December, 2009) with the copyright holder, Paul Pelletier, a vinyl album featuring all the Demon Pact unissued studio recordings, and some "live" material, is scheduled to be released through High Roller in the Spring of 2010.
Although Demon Pact never went beyond being a local band, the Slime single was well distributed throughout the world and even today, the recordings of Demon Pact are highly regarded and soughtafter by HeavyMetal fans world-wide.
See "Def or Glory" HeavyMetal fanzine 2001, an interview with Donald Meckiffe by Tina Sullivan