Voor CD, Tudor Double CD and Ares Kingdom Patch Out Now
Voor "Evil Metal" CD
ANTI-GOTH 171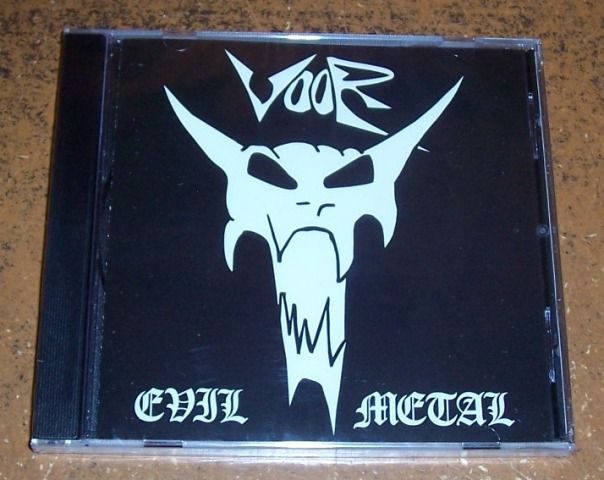 CD version with tracks from the regular LP version.
1. Evil Metal
2. In The Hell
3. Creatures Of War
4. No Title
5. Bloodlust (Venom cover)
6. Crionics (Slayer cover)*
7. Evil Metal
8. In The Hell
9. No Title
10. Like A Snake
11. Evil Metal*
*March 1985 session outtakes. Scroll down to read the full description.
Tudor "Ultra Black Metal" CD
ANTI-GOTH 027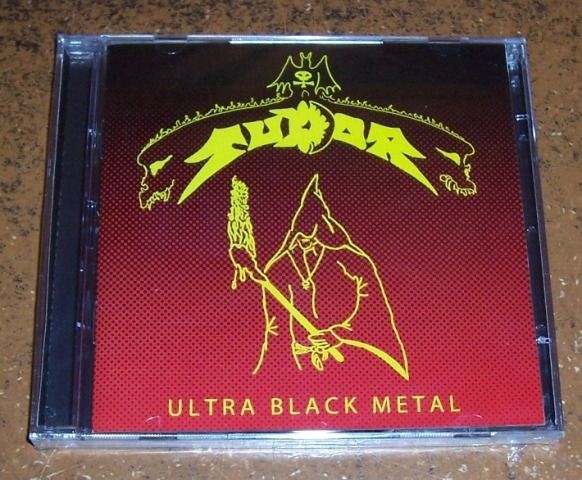 Double CD version of the out of print release from 2004. Includes all tracks from the die hard version DLP+7″. Review of the original DLP taken from http://www.thecorroseum.com/rev/tudor2.htm :
Well, the days when we still marveled in wonder of how recordings like these could ever reach our ears are long gone, but I'm not bloody complaining. Still, the state of current Metal affairs begs the question: Is this particular "kvlt-reissue" warranted? Yes, it is. With only 2 tracks off their debut 7″ to go by, you can't really scream "underrated gods!"-bloody-murder to the world and wonder why no-one listens. We – need – MORE, and who to give it to us but the highly revered Nuclear War Now label? NWNs releases has so far had the stamp of total dedication and professionalism and "Ultra Black Metal" is hardly an exception. Thank doG they got here first! The packaging is of course of pristine NWN-class. A beautiful fold-out cover with linernotes/bio and original demotape covers, innersleeves chock-full of awesome, east-euro-misery-oozing band pix and of course a lyric sheet for those awake at the high-school Czech class. This particular Die-hard edition comes on marbled vinyl, including a red vinyl reprint of the "Spalovna" 7″, a killer looking patch, obi and a Rock Idol poster to nail up next to Dee Snider and Blackie Lawless above your bed. "Ultra Black Metal" contains the band's second and third full-length demos, "Zombie" from '90 and "Skeletor" from '91. Now, if you found your way to this review I'm guessing you're not entirely unfamiliar with late 80′s/early 90′s East-Euro Black Thrash-sound. It's stale, crude & awkward, just the way we want it, although the "Zombie" recordings may lean a tad too much in the crude direction. It's hard to pick any particular standout moments, but thanks to the originality of those insane, oversimplistic choruses, the demo work nicely as a whole. The title track bears a haunting similarity to the DEATH SS song with the same name, although not in a rip-off kind of way. Song by song we speed up to Thrash-pace and things would have become a bit tedious if it weren't for the immensely cool vocals. You simply cannot fail with Czech vocals in Metal! The "Skeletor"-session is where things get more interesting. The band is slowly moving upwards towards the songwriting class the of the outstanding 7″ A-side in songs like "Destrutce Mozku", "Král Kanybal" (tango-beats!) and the pounding, must-hear "Excsorszit", a worthy competitor to the unholiest of ROOT-compositions. There be studded leather, there be skulls, there be inverted crosses aplenty and TUDOR are more than worthy of these beastly medals. They may not have been the new old MASTER'S HAMMER, but the infernal noise engraved on these disks should be infernal enough for any and all jaded kult-metal fans. If it just sounds like poorly executed zero-budget Thrash sung in weird language to you, you were wrong to leave your comfy, western middle-class condo in the first place. This polluted concrete ghetto is not big enough for me, TUDOR and you. Look, new MEGADETH-album out now! Hurry hurry, "metal-dude"…
Ares Kingdom "Incendiary" Woven Patch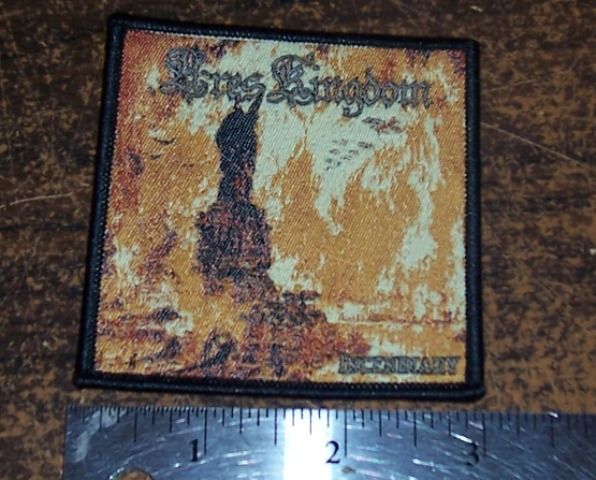 About 3″x3″. Full color woven patch with fine details not possible with embroidered patches. Ready to be sown on to your metal vest.