Armour Picture LP, Terrorama/Adorior split MLP Out Now
Armour "Sonichouse Tapes: American Invasion" Picture LP
ANTI-GOTH 092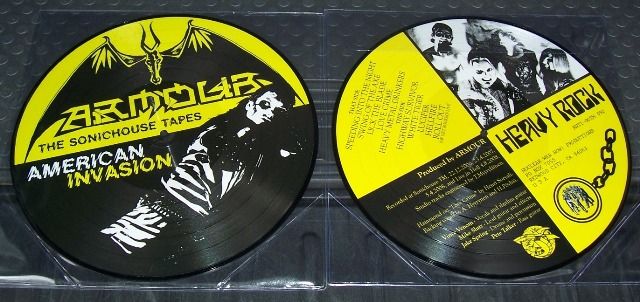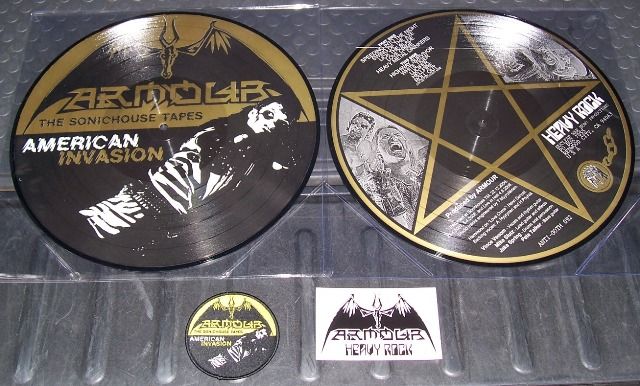 At the time Armour originally released the "Sonichouse Tapes" Demo, many approached the band with trepidation. Although Werwolf's myriad musical projects already covered diverse terrain, the thought of the man behind Satanic Warmaster playing in a band that draws its influences primarily from bands like W.A.S.P., Accept, and even Motley Crue was somewhat difficult to grasp. Once the recording was proliferated, however, it became apparent that this band was more than a novelty. The music here is authentic and sincere and taps into the same reservoir of alcohol and lust that fueled the 1980′s heavy metal scene. NWN! was fortunate to release the U.S. CD version of this excellent demo and is now proud to present it as a limited picture disc version.
Click here to order the regular version.
Click here to order the die hard version.
Terrorama/Adorior split MLP
ANTI-GOTH 166
While Terrorama has been affiliated with NWN! for many years now, this split LP release pairs them with the highly regarded Adorior—a pairing which suits both bands particularly well. Both Adorior and Terrorama, arguably equally underrated, deliver genre-defying metal that cuts across the boundaries of black, death, and thrash. It is clear from this release as well as their previous work that neither band concerns itself with remaining inside the confines of the various subcategories of metal, but instead appropriate elements from each in order to summon something so malevolent, so impure that the use of such categories to describe these bands becomes trite and misguided. Adorior have long been producing some of the U.K.'s most demonic sounds. Despite the band's limited output, each release shows them incorporated new styles and further refining their approach. A penchant for quality control is one of the characteristics that sets Adorior apart from so many of their contemporaries. The tracks on this split are certainly no exception to this general pattern. Here, Adorior reach deep into the depths of the abyssic realms of hell and spew forth demonic manifestations of their agonizing visions. Terrorama then carry the listener into ever increasing dimensions of darkness. Although frequently overlooked, Terrorama have spent the better part of the last decade producing some of the most evil blackened deathrash. Since the release of their excellent "Omnipotence" LP in 2008, Terrorama have remained silent. The material on this split, some of the best the band has recorded to date, breaks that silence with a deafening and bestial roar.
Did hard version includes two woven patches.
Click here to order the regular version.
Click here to order the die hard version