Snakepit #19 + Griffin 7″ Out Now
Snakepit #19 + Griffin 7″
ANTI-GOTH 179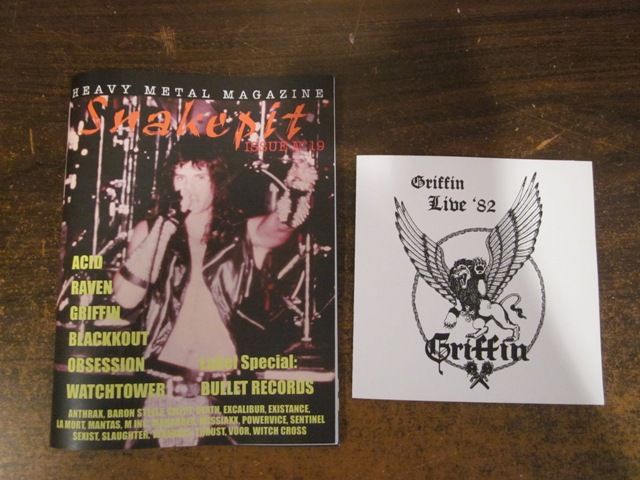 (Description written by Laurent R. of Snakepit Mag)
2011… I'm proud to deliver for you guys the 19th installment of Snakepit Magazine! This time we've given the Snakepit treatment to bands like ACID (you will NEVER see a feature like this one again!), ANTHRAX, BARON STEELE, BLACKKOUT (the monster Florida Power Metal band!), CRYPT, DEATH (the most in depth interview ever with Rick DeLillo -expect part # 2 in issue 20!), EXCALIBUR, EXISTANCE, GRIFFIN (featuring no less than Billy McKay revealing EVERYTHING about that once S.F. monster act who's more than ready to meet the European crowds!), LA MORT, BULLET RECORDS for the label special section, MANTAS, MARAUDER, MESSIAXX, M INC, OBSESSION, POWERVICE (The famous Dutch band who had so much to offer but whose access to fame was cut too short!), RAVEN, SENTINEL, SEXIST, SLAUGHTER, TENEBRES (one of the most obscure yet totally kick ass band from France!), THRUST (Another dream becoming true with Mr John Bonata telling the whole story like never before!), VOOR, WATCHTOWER and WITCH CROSS (which makes the first feature in issue #5 looking like dog shit!). You wanted REAL METAL, you got it again! As usual there's a bonus 7" included with the mag (webzines take notice!), this time S.F.'s GRIFFIN offer two exclusive live songs for Snakepit.
European readers should check their local distros to save on postage and VAT:
High Roller Records (GER) -http://www.hrrecords.de/shop/ (order@hrrecords.de)
Metaleros (GER) – http://metaleros.de/mailorder.html (krukenberg@freenet.de)
Undersiege (FR) – http://undersiege.fr/pages/zines.html (undersiege.rds@gmail.com)
Trigger Distributions (Greece) – http://trigger-distro.blogspot.com/ (trigger.distro@gmail.com)
and former Snakepit member- Heinz Konzett (AUT) (mayhem@speed-tiscali.at)
Americans can also wholesale from Ebullition (ebullition.com)
First 100 orders will receive the colored vinyl 7″.
Wholesale is available with min order qty of 14 copies. 14 copies fit in a flat rate Priority Mail box.
International:
$7 per mag x 14 = $98
$43 flat rate priority postage
=$141
Domestic:
$7 per mag x 14 = $98
$10 flat rate priority postage
=$108
PayPal: yosukekonishi@yahoo.com