Witchfinder General "Buried Amongst the Ruins" Die Hard LP+7″
Witchfinder General "Buried Amongst the Ruins" Die Hard LP+7″
ANTI-GOTH 075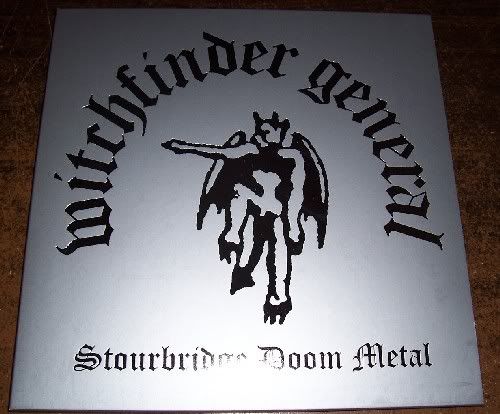 Cick on the image to see more photos.
There is simply no denying that Witchfinder General were one of the heaviest and most evil heavy metal bands of all time. The legacy of Witchfinder General is well known and need not be recounted here. Suffice to say that, at the time of its release in 1982, no band had riffs as slow and heavy as those on the "Soviet Invasion" 12" EP. Even though Witchfinder General is usually considered to be part of the NWOBHM scene, their style was always heavier and darker and more akin to Black Sabbath than to the more punk influenced heavy metal acts that were prevalent in the UK at that time. Arguably their best recording, "Soviet Invasion" has long been out of print save for a few bootleg versions that have been circulated. Now these megalithic tracks are available once again on vinyl. In addition to this, ""Buried Amongst the Ruins" also includes four recently unearthed live tracks from 1981 (including one song, "Phantasmagorical," that was never recorded except during this live performance) as well as a 7" reproduction of the legendary first EP, "Burning a Sinner" b/w "Satan's Children" originally released in 1981. This 180 gram, black vinyl LP comes in a deluxe gatefold jacket printed in silver to create a ghostly appearance. The 7" featuring the "Burning a Sinner" tracks is a faithful replica of this ultra rare EP, printed almost exactly as it was when it was originally released in 1981. Accompanying the vinyl is an A-2 size poster as well as a comprehensive 12" x 12" booklet featuring rare photos, fliers, liner notes, and other cult elements that will appease even the most fanatical Witchfinder General worshiper. Die Hard version comes on green180 gram vinyl and is encased in a gatefold jacket printed black and housed inside a slipcase. The Die Hard version also comes with a vinyl sticker featuring the "Burning a Sinner" cover art and a Witchfinder General turntable mat.
SOLD OUT. PLEASE GO TO BURIED BY TIME AND DUST.