Blasphemy, Antediluvian, Vanhelgd confirmed for NWN Fest III 2012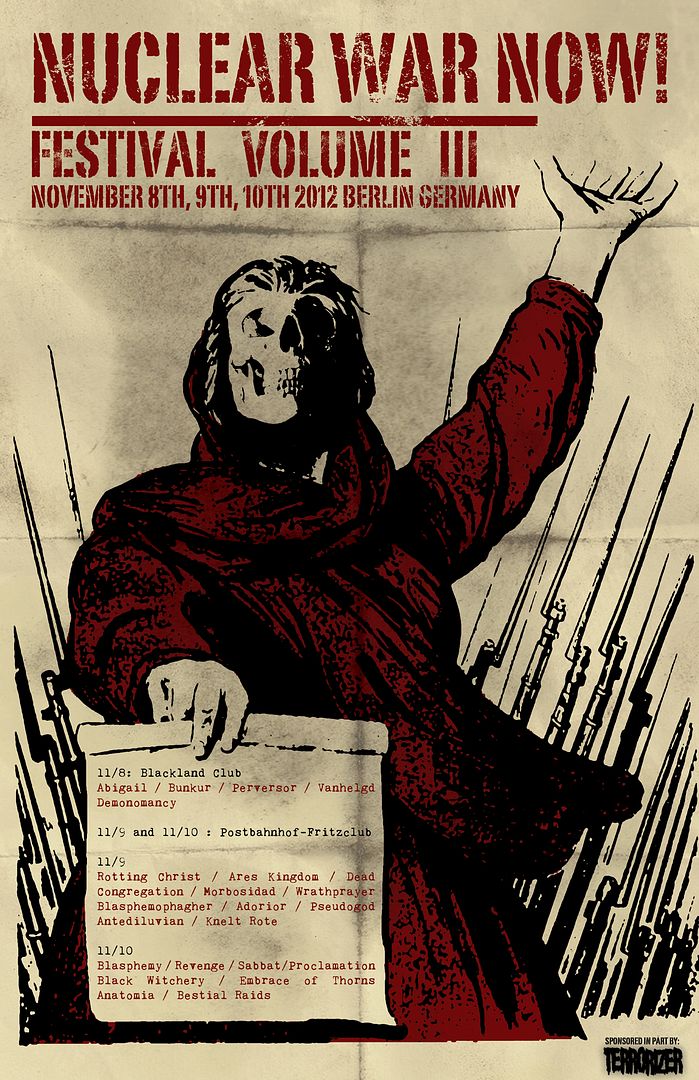 NUCLEAR WAR NOW! FESTIVAL VOL. III
November 8th, 9th, 10th 2012 Berlin Germany
11/8: Blackland Club
Abigail
Bunkur
Perversor
Vanhelgd
Demonomancy
11/9 and 11/10 : Postbahnhof-Fritzckub
11/9
Rotting Christ
Ares Kingdom
Dead Congregation
Morbosidad
Wrathprayer
Blasphemophagher
Adorior
Pseudogod
Antediluvian
Knelt Rote
11/10
Blasphemy
Revenge
Sabbat
Proclamation
Black Witchery
Embrace of Thorns
Anatomia
Bestial Raids
Click here to buy Day1 Ticket
Click here to buy Day 2 and 3 Ticket
Please note that we are still negotiating with Vader to play the fest.
Brought to you in conspiracy with Iron Bonehead Productions. Sponsored by Terrorizer Magazine.
Beginning immediately after the devastation of 2010′s NWN! Fest, NWN! and Iron Bonehead sought to replenish the arsenal for the next assault. In order to ensure the same level of quality that has characterized the previous fests, it was decided that there would be no fest in 2011. Next year, however, NWN! fest will return with a lineup that exceeds all expectations. The fest will feature many veterans of the first line of the NWN! infantry including Ares Kingdom, Morbosidad, Embrace of Thorns, Dead Congregation, Proclamation, Blasphemophagher, and Black Witchery as well as new death squad recruits like Bunkur, Anatomia, Demonomancy, Wrathprayer, Adorior, Perversor, Pseudogod, Knelt Rote, and Bestial Raids. Among the acts topping the bill on each of the three nights will be NWN! mainstays Abigail, Revenge, and Sabbat. Special sets are being planned for two of the most savage of the NWN! mercenary division. Rotting Christ will play a set dedicated to their earlier work featuring only material from "Thy Mighty Contract" and earlier in honor of their upcoming release of early demo and EP material on NWN!.