Abigail and Cauchemar Indian Invasion
1/29/2012
7:30~14:00
Kyra Theatre, 2nd Floor, 2001 Katti-ma center,100ft Road, Indiranagar Bengaluru,Karnataka 560038, Bangalore, India
TRENDSLAUGHTER FEST is an 'old school' extreme Metal event organized by the Trendslaughter Crew and Cyclopean Eye Productions thats believes in bringing Bangalore the best of the the"old" school underground metal by getting both foriegn acts and local bands together and thereby creating a rock solid "underground movement" to spearhead the Heavymetal culture. TRENDSLAUGHTER II is the 2nd event heralding our dedication in bring the best of underground metal acts to you the fans.
Event Timings
3.30pm – 4.15pm – Djinn & Miskatonic
4.15pm – 5.00pm – Dwesha
5.00pm – 5.45pm – Gorified
5.45pm – 6.30pm – Cauchemar
6.30pm – 7.30pm – Dying Embrace
7.30 pm onwards – Abigail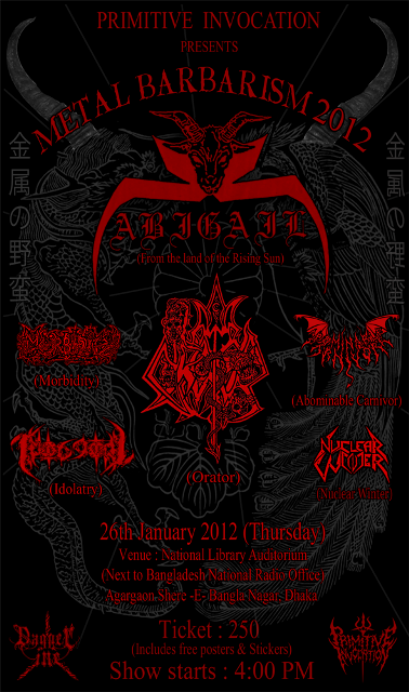 1/26/2012
8:00~12:30
Primitive Invocation is back with another international event featuring the torchbearers of the Asian metal scene ABIGAIL from Tokyo, Japan.
Full Line Up:
ABIGAIL (Black/Thrash from Tokyo, Japan)
ORATOR (Death/Thrash, Bangladesh)
MORBIDITY (OSDM, Bangladesh)
IDOLATRY (OSDM, Bangladesh)
ABOMINABLE CARNIVORE (Death/Black Metal, Bangladesh)
NUCLEAR WINTER (Thrash Metal, Bangladesh)
Venue: National Library Auditorium (Next to the Bangladesh Radio Office), Agargaon, Shere-E-Bangla Nagar, Dhaka.
Ticket: 250/- (Includes free Gig Poster and Abigail/Orator Logo Sticker)
Show Starts: 4:00 PM