Blasphemophagher "Nuclear Empire" T-Shirt Out Now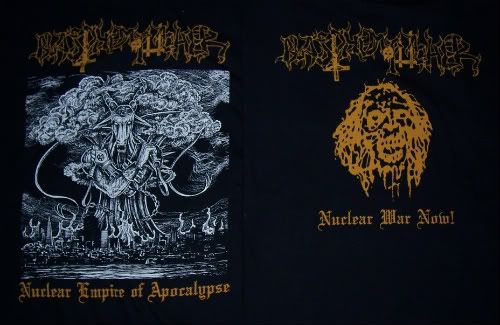 Available in M, L and XL
Related Posts
USURPATION CODEX Tour February MMXIII Fri Feb 8th – PORTLAND, OR @Ash St. Saloon w/Pleasure Cross, Sempiternal Dusk Sat Feb 9Th – SEATTLE WA @Black Lodge w/Anhedonist, Radioactive Vomit Sun ...

NB-604 "One Day of Psychopatmetal in Hell" MLP Released by Deathrash Armageddon and distributed in the US By NWN. South American black metal demo reissued on vinyl as one sided ...

Nocturnal Graves "Satan's Cross" CD ANTI-GOTH 082 Repress of the debut album by Australia's sons of bestial deathrash, Nocturnal Graves, is finally back in print. The second pressing comes with ...