Blasphemophagher "Nuclear Empire" T-Shirt Out Now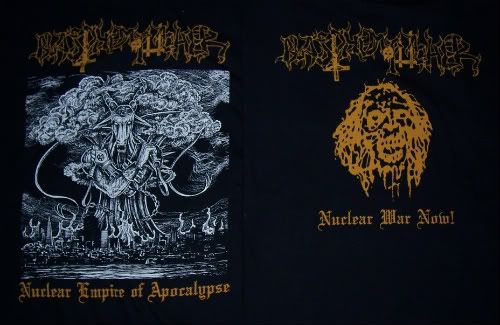 Available in M, L and XL
Related Posts
Released by Aphelion Productions and Distributed in the US by NWN: Belgian Brown Metal pioneer's 9th studio album is finally on vinyl courtesy of Aphelion Productions from Scotland. Comes housed ...

Set "Upheaval of Unholy Darkness" CD ANTI-GOTH 252 In 2008, Set released a CDR demo entitled, "Dominus Profanum," that, due to the limited quantity in which it was produced, initially ...

Cauchemar "La vierge noire" Tour edition picture disk with foil stamped jacket. ANTI-GOTH 056 Feeding the Canadian metal flame, CAUCHEMAR plays haunted doomy metal with French vocals and a heavy ...