Blasphemophagher "Nuclear Empire" T-Shirt Out Now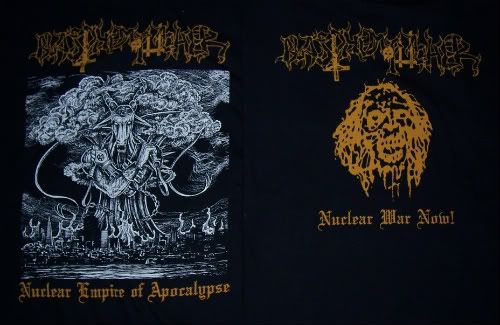 Available in M, L and XL
Related Posts
Sacriphyx "Lone Pine" 7″ ANTI-GOTH 095 Originally released as a limited demo CDR only available directly from the band, these debut recordings from Australia's Sacriphyx were too exceptional to leave ...

Armour "Sonichouse Tapes: American Invasion" Picture LP ANTI-GOTH 092 At the time Armour originally released the "Sonichouse Tapes" Demo, many approached the band with trepidation. Although Werwolf's myriad musical projects ...

PROCLAMATION European Tour April & May 2012 27th April 2012 Valenciennes, France. TBA 28th April 2012 Cage-Club @ Bottrop, Germany, w/TRUPPENSTURM, BESTIAL RAIDS, THORYBOS 29th April 2012 Ghent, Belgium, TBA ...