Blasphemophagher "Nuclear Empire of Apocalypse" LP Out Now
Blasphemophagher "Nuclear Empire of Apocalypse" LP/LP+7″
ANTI-GOTH 110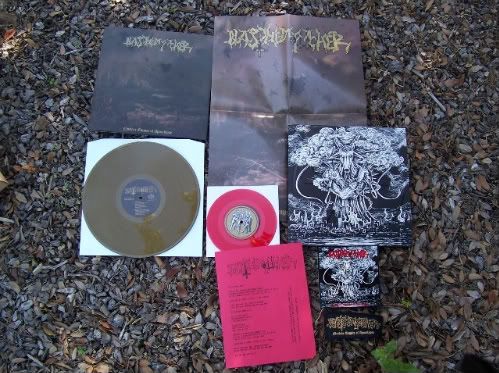 Click on image to see more photos
Following several head-splitting split recordings and demo, Italy's Blasphemophager have emerged to release their debut full length "Nuclear Empire of Apocalypse" on Nuclear War Now!
Formed in 2002, Blasphemophager summons forth the unholy spirits of demented legends such as SARCOFAGO, IMPETIGO, ABHORER, BESTIAL WARLUST, BLACK WITCHERY and the mighty BLASPHEMY. Blasphemophager not only succeed in achieving the levels of sickness displayed by the aforementioned bands, but also add their own brand of nuclear fueled sickness. Their blackened riffing and low-end Scream Bloody Gore-era production will leave the uninitiated begging for mercy as the listener is battered by this bestial attack of mutually assured aural destruction. Prepare for the new atomic dark ages…
Regular version with heavy black vinyl, gatefold jacket, and A2 poster. Die hard version with bonus 7″, slipcase, patch and sticker.
Click here to order the regular version.
Click here to order the die hard version.