Nuclear War Now! "Only Analog is Real" T-Shirt Out Now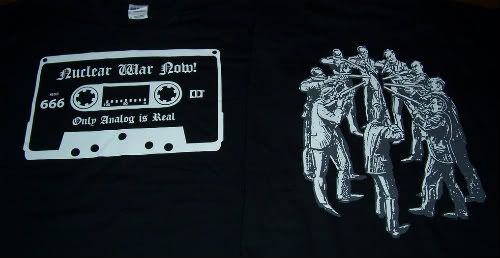 Available in sizes M, L and XL.
Related Posts
Both arms, chest, hood and back printed on American Apparel zip up hoods. American Apparel stuff is a bit smaller than usual so you might want to order XL if ...

Revenge Black Witchery Sanguis Imperem Ritual Combat More bands to be announced 8-1-09 All Ages $20.00 The Black Castle 855 W. Manchester Ave. LA, CA This will be the only ...

Morbosidad "Muerte de Cristo en Golgota" CD ANTI-GOTH 241 This year marks the 20th anniversary of the plague known as Morbosidad. Since then, Tomas Stench, guided by his depraved impulses, ...