Nuclear War Now! "Only Analog is Real" T-Shirt Out Now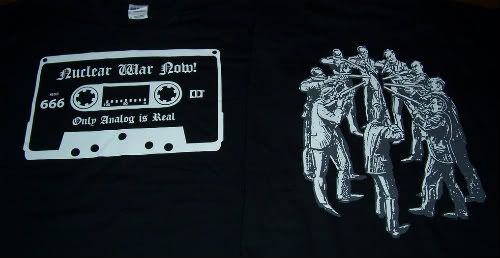 Available in sizes M, L and XL.
Related Posts
Damnation "Speed Anarchy" LP ANTI-GOTH 154 Click on images to see more photos. Damnation emerged in the mid-1980's Canadian Speed/Death Metal scene and released a series of four demos between ...

Mystifier "The World is So Good That Who Made It Doesn't Live Here" LP Second press on red vinyl ANTI-GOTH 249 (IBP154) Between 1989 and 1993, Mystifier released a rapid ...

Unleashed in Conspiracy with Iron Bonehead… Sacrificio "Sacrificio" MLP ANTI-GOTH 258b / IPB 198 Regular: Die Hard: Sacrificio's debut mLP is among the most anticipated debuts in recent memory by ...