Nuclear War Now! "Only Analog is Real" T-Shirt Out Now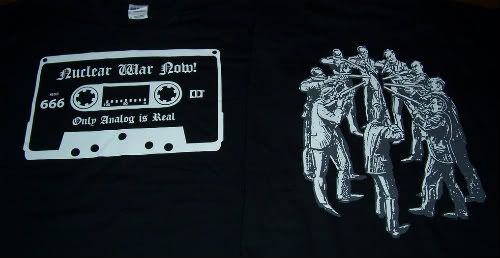 Available in sizes M, L and XL.
Related Posts
Dark brown discharge ink printing on dark sage colored Gildan brand TS. Available in sizes S to XL. Discharge printing work by removing the dye of the garment and replacing ...

Ignivomous "Contragenesis" LP ANTI-GOTH 213 Die Hard version: Wholesale version: Click on images to see more photos. (Description by J. Campbell) Ignivomous was among the first of many recent bands ...

Dave Slave's Doomed and Disgusting "Satan's Nightmare" LP ANTI-GOTH 263 (Description by J. Campbell) Dave Slave, one of the underground's most unquestionably enigmatic and underappreciated figures, reemerges from a long ...