Nuclear War Now! "Only Analog is Real" T-Shirt Out Now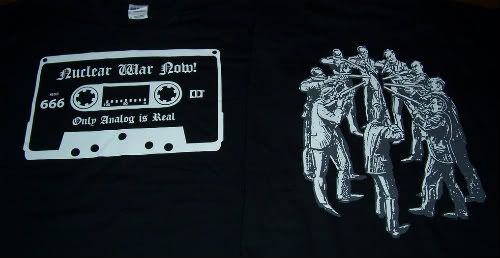 Available in sizes M, L and XL.
Related Posts
Official licensed merchandise from the band are now in stock. All T-shirts are double sided white on black prints. Zip up hoodie is printed on both arms and chest only. ...

Ignivomous "Hieroglossia" LP ANTI-GOTH 464 Hieroglossia by Ignivomous Seven long years after the release of their sophomore album, Contragenesis, Ignivomous return with their third full-length album Hieroglossia. Released in conspiracy ...

Demonomancy "Burnt Vitriol – A Relics Compendium" LP ANTI-GOTH 347 (Description by C. Conrad) Prior to the release of its 2013 debut album, "Throne of Demonic Proselytism," Demonomancy recorded and ...