Nuclear War Now! "Only Analog is Real" T-Shirt Out Now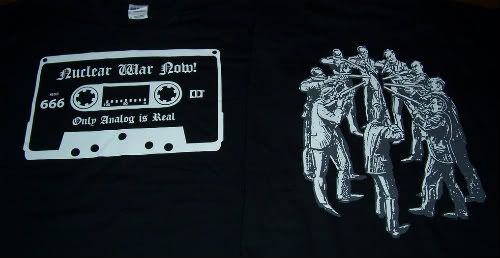 Available in sizes M, L and XL.
Related Posts
Katechon "Man God Giant" CD ANTI-GOTH 245 The word "katechon" refers to the restraining force or entity tethering the Antichrist, and thus maintaining equipoise between existence and annihilation. Sonically and ...

Sadogoat "Cultus Capriea Ebrositatis" DLP and DLP+7″ Released by Ancient Darkness Productions Cum Stained Version DLP Limited to 566 copies: Black Ejaculation Version DLP+7″ Limited to 100 copies: This release ...

October 11th, 2013 – Hamburg (Bilstedt), Bambi Galore (GER) October 12th, 2013 – Eindhoven, Bloodshed Fest, Dynamo (NL) October 13th, 2013 – Brussels, Bunker (BEL) October 14th, 2013 – Bologna, ...