Nuclear War Now! "Only Analog is Real" T-Shirt Out Now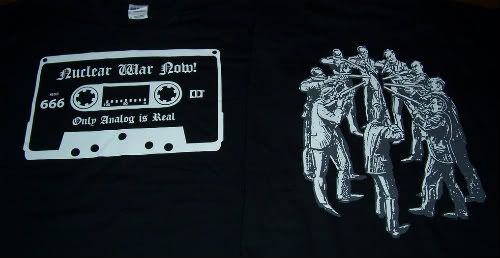 Available in sizes M, L and XL.
Related Posts
These are out today: Click on image to see more photos. Nifelheim/Sadistik Exekution "Tribute to Slayer Magazine" 7″ (Regular and Die Hard) Finally something new from Nifelheim!! One new track ...

Nuclear War Now! is pleased to announce a deal has been made to reissue Revenge's "Attack.Blood.Revenge" four-song EP on CD and LP formats. Originally released by long running Black Death ...

Goatlord "The Last Sodomy of Mary" CD ANTI-GOTH 057 Click on the image to order. The last nail in the coffin for Goatlord. Old rehearsals of what was supposed to ...