Nuclear War Now! "Only Analog is Real" T-Shirt Out Now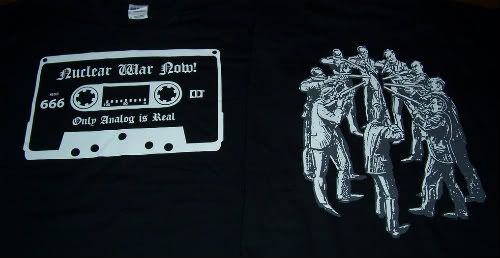 Available in sizes M, L and XL.
Related Posts
Conqueror "War.Cult.Supremacy" Double CD + DVD ANTI-GOTH 178 (Description by J. Campbell and C. Conrad) Conqueror began its campaign of devastation in 1992 with the union of the uncontrollable and ...

ELDRITCH ALCHEMY AND PRECATACLYSMIC COMBAT Crafted between the Summer Solstice and the Fullmoon eclipse of August , the recordings of DREADFUL RELIC`s debut are now finished! More info in due ...

Coming Soon on NWN! in Conspiracy with Nattetale Nupta Cadavera "Nupta Cadavera" 7″ ANTI-GOTH 457 Nupta Cadavera by Nupta Cadavera (Description by J. Campbell) With this debut EP, Nupta Cadavera ...