Nuclear War Now! "Only Analog is Real" T-Shirt Out Now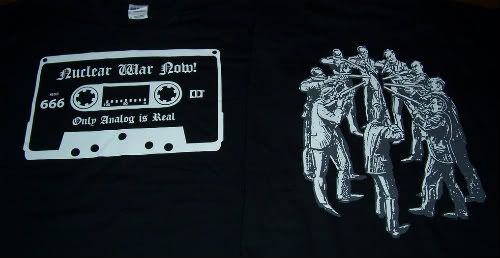 Available in sizes M, L and XL.
Related Posts
The last 100 or so original boxes were too messed up to use so I had some blank boxes silkscreened (black on black). The contents are exactly the same as ...

Antediluvian "From Seraphic Embrace" HSW 2 Color Version Second batch done with two color grey/white printing on front. Slightly misregistered on purpose to achieve a psychedelic look. Plastisol printing on ...

LP and Pic LP are back in stock. Blasphemy "Fallen Angel of Doom…." LP and Pic LP COMMAND 008 / ANTI-GOTH 069 Unleashed in conspiracy with Ross Bay Cult and ...