Nuclear War Now! "Only Analog is Real" T-Shirt Out Now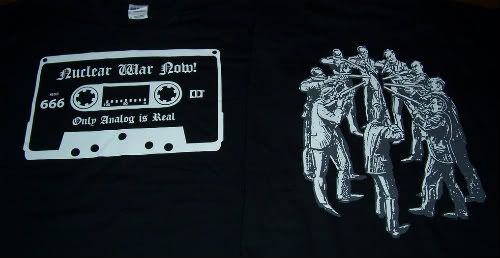 Available in sizes M, L and XL.
Related Posts
Morbosidad "Profana la Cruz del Nazareno" LP Repress ANTI-GOTH 101 Despues de casi 5 anos de silencio total, las legiones bestiales han resurgido. On December 25, 2007, the notorious Tomas ...

Reencarnacion "888 Metal" CD ANTI-GOTH 044 South America's role in the early evolution of black metal in the 1980s, though it is often most specifically linked to it largest and ...

Knelt Rote "Trespass" CD ANTI-GOTH 233 Knelt Rote has emerged over the past few years as something of an anomaly in the underground. While the band's earliest work veered heavily ...