Nuclear War Now! "Only Analog is Real" T-Shirt Out Now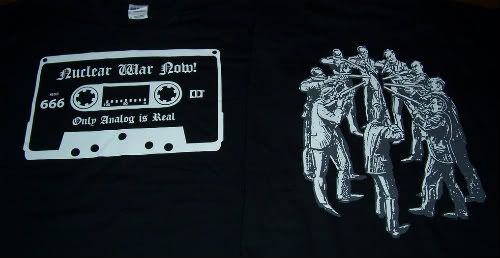 Available in sizes M, L and XL.
Related Posts
Rotting Christ "Apokathilosis" 3×7″ Boxset ANTI-GOTH 230 Regular version: Patch and sticker for die hard version: Die Hard version colored vinyl with Tinnemans art tapestry: Die Hard version colored vinyl ...

Nocturnus "Coven of Evil" TS Alternate logo on the front and chalice artwork by Allen on the back. Both sides are printed with aqueous sage green ink on black Gildan ...

Athanatos "Unholy Union" 7″ ANTI-GOTH 261 Unleashed in conspiracy with Iron Bonehead… (Description by C. Conrad) Athanatos recently emerged from the storied Chilean underground with this 2014 demo, "Unholy Union," ...