Nuclear War Now! "Only Analog is Real" T-Shirt Out Now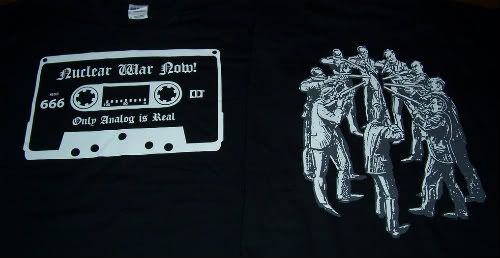 Available in sizes M, L and XL.
Related Posts
Demonomancy "Rites of Barbaric Demons" MCD ANTI-GOTH 198 (Description by J. Campbell) Demonomancy is among the very few bands who secured a release through NWN! the traditional way; that is, ...

Bone Awl "Undying Glare" 7″ ANTI-GOTH 058 This is the bonus one sided 7″ that originally accompanied the die hard version of Meaningless Leaning Mess LP. 1000 more copies were ...

This is an official Thy Mighty Contract patch with the original cover from the Osmose Productions LP. These are 4″x4″ sublimation printed with merrowed borders. Click here to order.