Nuclear War Now! "Only Analog is Real" T-Shirt Out Now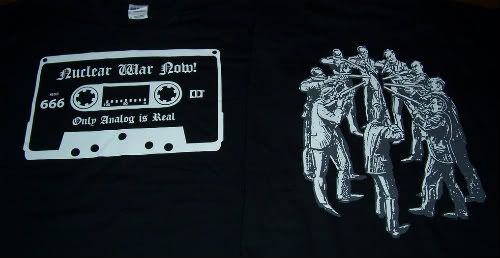 Available in sizes M, L and XL.
Related Posts
Click on logo to go to the Sarcasm website. I'm working with the band to release their old Cassette only album "Crematory" on vinyl. Their sound can be compared to ...

NEW! Revenge "A.B.R. Gasmask" Red Tank Top Black aqueous ink printing on cardinal red Gildan brand Tank Top. Available in sizes M to XL. NEW! Revenge "Attack.Blood.Revenge" Black Tank Top ...

Two color discharge ink printing on the front and one color on the back. Printed on Gildan brand TS. Available in sizes S to XXL. Click here to order.