Nuclear War Now! "Only Analog is Real" Patch Out Now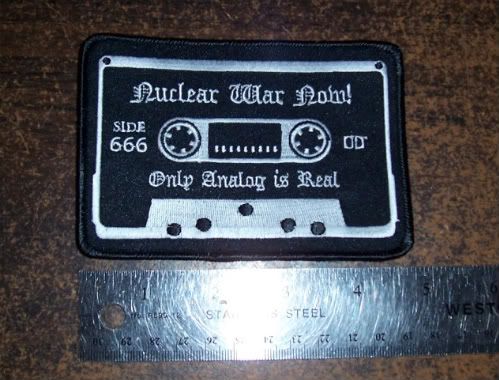 Embroidered NWN patch with the tape design.
Related Posts
Abigail "Sweet Baby Metal Slut" CD ANTI-GOTH 130 Abigail have returned with their fourth album. Entitled "Sweet Baby Metal Slut," this album continues in the style Abigail began exploring on ...

Abigail "Intercourse and Lust" LP ANTI-GOTH 010 Japan's Abigail has been a flagship band in the NWN! camp since the beginning of the label's existence. In the more than 20 ...

USURPATION CODEX Tour February MMXIII Fri Feb 8th – PORTLAND, OR @Ash St. Saloon w/Pleasure Cross, Sempiternal Dusk Sat Feb 9Th – SEATTLE WA @Black Lodge w/Anhedonist, Radioactive Vomit Sun ...