Nuclear War Now! "Only Analog is Real" Patch Out Now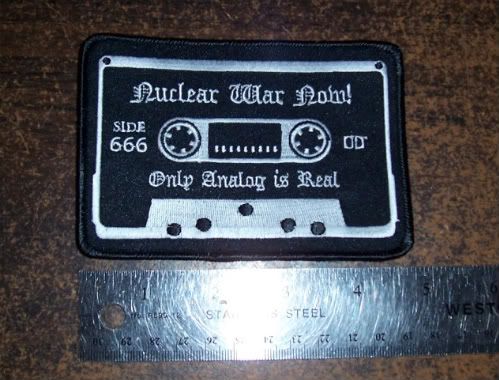 Embroidered NWN patch with the tape design.
Related Posts
Evil (Japan) "邪悪を讃えよ(Rites of Evil)" LP ANTI-GOTH 346 CD version on Obliteration Records: (Description by C. Conrad) Nuclear War Now! expands its ever-growing roster and reach with its release of ...

Sect Pig "LSD Serpent" TS Four color discharge/plastisol hybrid printing on Gildan brand TS. Basically the blue parts are all printed with discharge/aqueous ink while the colored speckles are printed ...

Ignivomous "Contragenesis" CD ANTI-GOTH 213 Description by J. Campbell Ignivomous was among the first of many recent bands to breathe cold morbid breath into the decrepit form of dark and ...