Nuclear War Now! "Only Analog is Real" Patch Out Now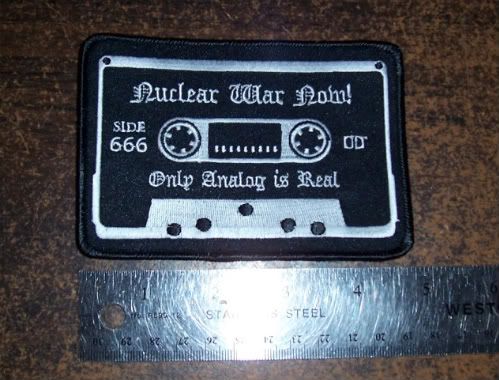 Embroidered NWN patch with the tape design.
Related Posts
SWARþ "Omines Pestilentiae" Gatefold Double 12″LP + 8 Page Booklet – 350gsm Gatefold Jacket With Matt Varnish & Inside Flooded In Black – 2x 140g Black Vinyl – 8 Page ...

Coming Soon on NWN! Voivod "No Speed Limit – Iron Gang Fanclub Live Demo" Voor "Evil Metal 1985" Aggression "Demo #1 1987" Outrage "Buried Pieces 1984-1986 Demos" Soothsayer "To Be ...

Nuclearhammer "Serpentine Hermetic Lucifer" CD ANTI-GOTH 260 (Description by J. Campbell) For nearly ten years, the Toronto-based band Nuclearhammer has endeavored to refine and perfect its aural strategy. A succession ...