Snakepit Magazine #20 + Wikka 7″ Out Now
Snakepit Magazine #20 + Wikka 7″
ANTI-GOTH 216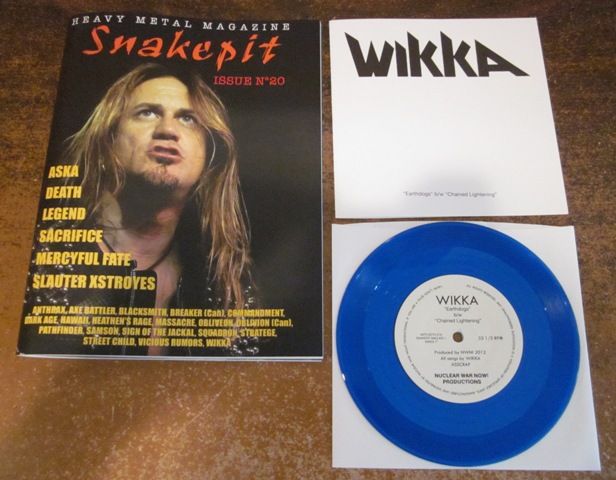 (Description by Laurent R. of Snakepit)
Some people change their musical tastes like they change underwears! Don't expect this to happen to Snakepit! More of the same is what we have to offer with issue #20 and NOTHING else! Yeah 20 issues and no webzine version, no sellout, no nu Metal, no poser bullshit, no happy crap just plain traditional METAL… on good old paper! To celebrate this new issue we offer you as usual short/ quickly done features with ASKA, AXE BATTLER, BLACKSMITH, BREAKER (Can), COMMANDMENT, DARK AGE, DEATH, HAWAII, HEATHEN'S RAGE, LEGEND (U.K.), MASSACRE, MERCYFUL FATE, OBLIVEON/OBLIVION (Can), PATHFINDER, SACRIFICE, SAMSON, SIGN OF THE JACKAL, SLAUTER XSTROYES, SQUADRON, STRATEGE, STREET CHILD, VICIOUS RUMORS and WIKKA!
Never enough?! Well there's also a great exclusive single from Canada's WIKKA included featuring two never heard before songs recorded back in 1987. Now let METAL do the talking…
8.5″x11″ format. 100+ pages of pure metal.
Colored vinyl Wikka 7″ for the first 100 orders (one copy per customer). Click here to order.
European readers should check their local distros to save on postage and VAT:
High Roller Records (GER) -http://www.hrrecords.de/shop/ (order@hrrecords.de)
Iron Bonehead Prod (GER) (info@ironbonehead.de)
Metaleros (GER) – http://metaleros.de/mailorder.html (krukenberg@freenet.de)
Heinz Konzett (AUT) (mayhem@speed-tiscali.at)
Americans can also wholesale from Ebullition (ebullition.com)
Wholesale is available with min order qty of 14 copies. 14 copies fit in a flat rate Priority Mail box.
International:
$7 per mag x 14 = $98
$48 flat rate priority postage
=$146
Domestic:
$7 per mag x 14 = $98
$11 flat rate priority postage*
=$109
*Magazines do not qualify for USPS Media Mail option.
Please add 4% to the toal when paying by PayPal.
PayPal: nwnprod@gmail.com