Perversor "Cult of Destruction" LP Out Now
Perversor "Cult of Destruction" LP
ANTI-GOTH 113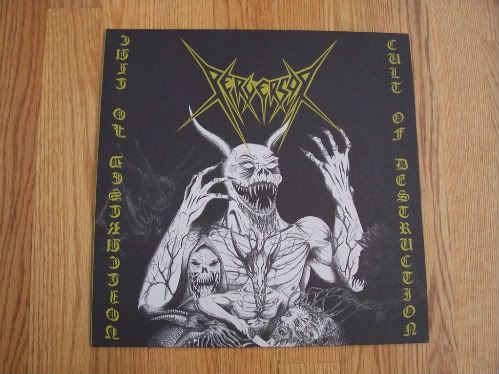 Click on image to see more photos.
Forged in the streets of Santiago Chile, Perversor's debut album will slay the false retrothrash nonsense that is infecting a once mighty scene. Drawing influence from obscure South American acts such as Pentagram and Death Yell while also giving a nod to bands like early Demoncy, Perversor offers a deadly combination of true black metal while maintaining a foothold in the sounds of Satanic deaththrash that will evoke the primal instincts of all who have the guts to listen. Includes full color A2 poster and double sided lyrics insert. All jackets printed reverseboard for a matte finish. Limited die hard version on mustard yellow vinyl comes with embroidered patch and sticker.
Listen to the track Sacrifice Your Soul to the Serpents of the Night here.
Click here to order the regular version.
Click here to order the die hard version.