Kryptor "Nerest a Ctnost (Demo 1988)" LP Boxset In Stock
IN STOCK NOW!
KRYPTOR – Nerest a ctnost (demo 1988) LP BOX
Released by Doomentia, Czech Republic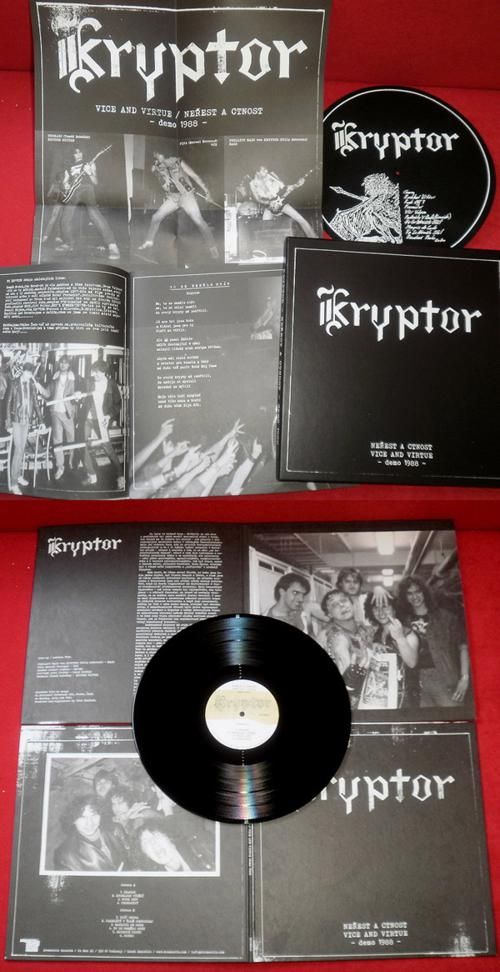 (casewrapped box, slipmat, A2 poster, casewrapped gatefold covered by fake leather, massive booklet, black vinyl, ltd to 500 units)
Another Czech metal gem from eighties when KRYPTOR among ARAKAIN, TORR or ROOT ruled the Czech scene hardly oppressed by bolshevik system.
Even to those who already know they can trust their ever-faithful DOOMENTIA imprint to dig up the foulest hidden germ of the late 80's Czech underground (check TÖRR, CRUX or DEBUSTROL recent LPs), the re-release of 'Nerest A Ctnost' will still come out as a treat.
A mish-mash of hardcore attitude, nasty thrash riffing and early black-metal concept, the Praha-based KRYPTOR was next to DEBUSTROL maybe the band most feared band. Even more so since they had formed in 1987 back when the Iron Curtain was still a reality and when even simply buying an instrument was a challenge. Initially released in '88 as 'Vice And Virtue' (even if only one of its song had English lyrics), their nine-tracks demo is stuff of legend.
Despite its insignificant budget and the many technical obstacles they had to overcome to make it a reality, 'Nerest A Ctnost' still is quite unique nowadays in 2012 as it was almost a quarter of a century ago. With a singer sounding like a way scruffier version of VENOM's Cronos, its punkish vibe and all those almost undecipherable lyrics for all those non-Czech speaking metal fans out there, it nevertheless still sounds like nothing else out there and is a very special sonic document of what Czech metal was all about back in the 80's.
—————————————————–
Jo, byly to krásné časy… Bolševik se nás sice z posledních sil ještě snažil maximálně držet u huby, ale stejně mu to nebylo nic platné – což platilo i pro nastupující metalovou scénu v tehdejším Československu. Bylo jen otázkou času, kdy po prvních heavymetalových průkopnících (a že i ti režimu leželi setsakra v žaludku) přijde – přesně v souladu s tím, co se dělo "na kapitalistickém Západě", odkud k nám sice informace a nahrávky pronikaly těžko a se zpožděním, ale pronikaly – něco ještě syrovějšího, agresivnějšího, nesmlouvavějšího a i textově provokativnějšího. Což byl black, speed a thrash metal, případně hardcore. Tedy žánry, kterými byl v různé míře inspirován a "infikován" i pražský Kryptor.
Mám pocit, že vůbec první člověk, od koho jsem tohle jméno slyšel, byl Vlasta Henych z Törru, s nímž jsem už tehdy udržoval přátelské kontakty. Do přímého kontaktu s Kryptorem jsem pak přišel někdy zkraje podzimu 1987, když na Barče (legendární KD Barikádníků v Praze-Strašnicích) předskakoval Arakainu. Bylo beznadějně vyprodáno – což tehdy nebylo nic výjimečného, aby bylo jasno – a někteří fanoušci, na které už nezbyly vstupenky, se za každou cenu snažili dostat dovnitř. V pauze mezi Kryptorem a Arakainem záhadně pronikli kamsi do půdních prostor kulturáku a když jimi procházeli, začaly na lidi v sále padat desky, kterými byl obložen strop. Z bezpečnostních důvodů bylo proto vystoupení Arakainu zrušeno a Kryptor s tehdy debutujícím Pípou za mikrofonem (původní zpěvák Michal Roháček musel v té době coby vojín základní služby povinně sloužit vlasti, jak se říkávalo) tak neplánovaně odehrál první velký samostatný koncert…
Každopádně Kryptor mě svým divokým a surovým projevem doslova uhranul. V následujících měsících jsem navštívil několik dalších jeho koncertů a jako nenapravitelný sběratel a archivář jsem zahořel nezvladatelnou touhou po jeho nahrávce. Pípa, s nímž jsem se mezitím seznámil, mi sice poskytl nějaký živák, ale to nebylo ono – jeho kvalita nebyla valná. Nicméně kdo si počká, ten se dočká, a netrvalo to ani tak dlouho. V létě 1988 to přišlo: Kryptor vyrukoval s prvním demosnímkem Neřest a ctnost (nebo Vice And Virtue, jak je ctěná libost). A i když z dnešního pohledu někomu ta nahrávka může přijít lehce úsměvná, je na ni nutno nahlížet tehdejšíma očima a vzít v potaz, za jakých neméně amatérských podmínek se rodila. Každopádně se stala doslova kultovní záležitostí a jedním ze základních stavebních kamenů českého undergroundového metalu. A můj vztah k ní je i po těch letech více než silný. Řeknu to ještě jinak: já měl tohle demo nahrané na jedné straně kazety "devadesátky", zatímco na straně druhé bylo neméně legendární první demo Debustrolu Vyznání smrti. Nedokážu spočítat, kolikrát jsem si tuhle kazetu pustil, ale bylo to opravdu hodně vysoké číslo… a o to je pro mě pikantnější, že přesně tahle konkrétní kazeta se vzdor tomu stala zvukovým základem nosiče, který právě držíte v ruce. Příjemný poslech!
- Petr Korál, duben 2011