Unholy Crucifix "Ordo Servorum Satanae" LP Out Now
Unholy Crucifix "Ordo Servorum Satanae" LP
ANTI-GOTH 221
Front cover: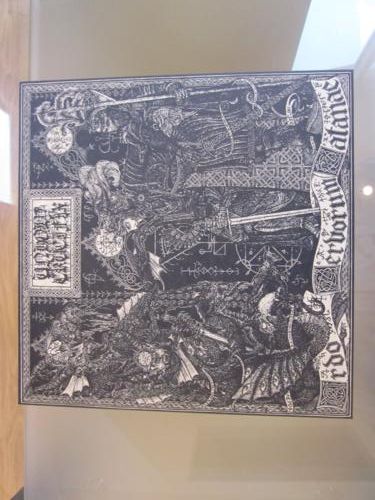 Back cover:


Cover Detail:


Black vinyl regular: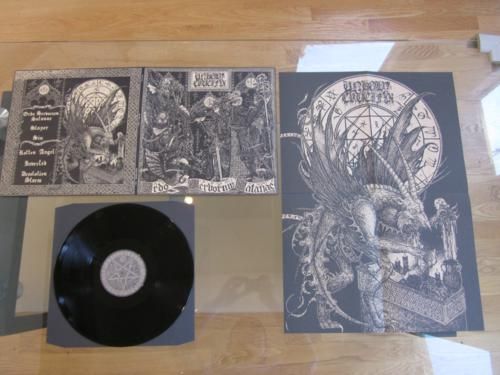 Die Hard gold colored vinyl: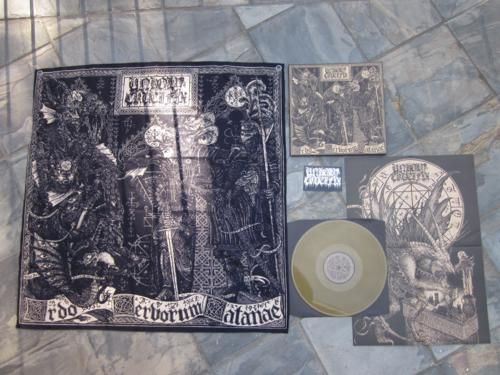 3 feet x 3 feet cloth tapestry: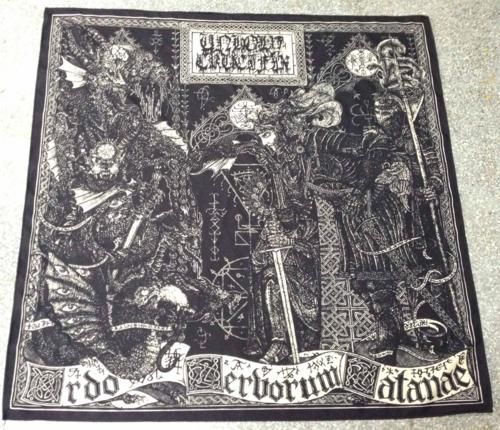 Detail on tapestry:


Click on images to see more photos.
(Description by J. Campbell)
Begun in Norway in 2004 by guitarist and vocalist Profanation of Deity (who was already involved in numerous other projects), Unholy Crucifix was a one-man project until 2010 when he initiated S.M. Azazel into the band. Since then, the band's sound has evolved and taken shape. Throughout the years, the band has released numerous demos and split releases leaving behind a daunting catalog, but has not, until now, recorded a proper "album" of material. Entitled "Ordo Servorum Satanae," this album is cognizably different from most of the band's previous work, but retains the same blasphemous presence. The result is something far more refined than that represented on the earliest Unholy Crucifix recordings. The accretion of different styles of playing and composition into the band's repertoire is very apparent on this debut LP. The production on "Ordo Servorum Satanae " is clearer and nicely balances the mid-range melody against the pummeling, blown-out low-end attack for which Unholy Crucifix is known. The songs here often demonstrate a mid-paced approach punctuated by ecstatic passages of blast beat annihilation. Compared to the profound bestiality of the earlier demos, this album is controlled and focused; yet the frenzy of possession is still intrinsic to every song. Overall, "Ordo Servorum Satanae" sounds, as it should, less like a demo and more like a well conceived, strategically planned, and thoughtfully executed album. This is not to say that the album supersedes any of the previous work; rather, here Unholy Crucifix perfectly exemplify the nature of a band segregating its demo material from its album material and realizing the inherent character of each as different tools within a vast arsenal. Fans of the band's earlier, more chaotic work, will be satisfied by the ferocity of the tracks here, while those seeking a more comprehensible and versatile approach will find this release equally satisfying. Adding to the atmosphere of this album is the hallucinatory and demonic vision of Croatian artist Marko Marov whose detailed and ornately horrific pen and ink style perfectly complements the sound of the record. After being in contact with Unholy Crucifix since the earliest days of the project, NWN! is honored to present the band's most potent work to date in the form of the debut LP, "Ordo Servorum Satanae."
Regular black vinyl version with gatefold jacket printed reverseboard on brown "parchment" paper, and A2 poster. Click here to order.
Die hard version on gold or beer colored vinyl with gatefold jacket printed reverseboard on brown "parchment" paper, A2 poster, vinyl sticker and 36″x36″ cloth tapestry. As it turns out I had mistakenly ordered 100 extra tapestries so I'm using the beer colored vinyl as part of the die hards and getting rid of the wholesale deal. I won't distinguish between the two colors unless someone mentions it in the "comments" section of the order. Otherwise I'll just grab whatever is closest to me. Click here to order.