Rotting Christ "Apokathilosis" 3×7″ Boxset Repress Out Now
Rotting Christ "Apokathilosis" 3×7″ Boxset
ANTI-GOTH 230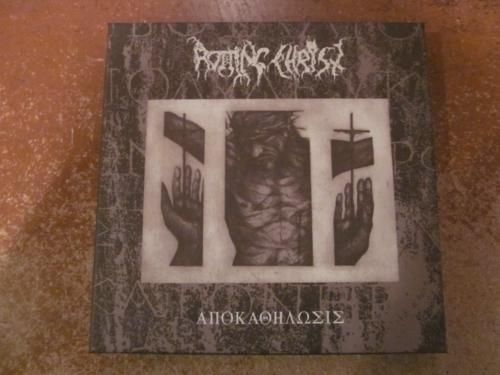 Regular version: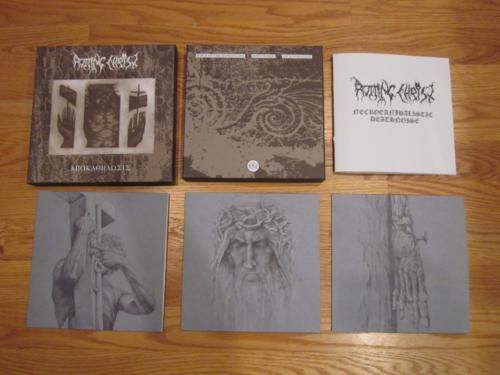 Patch and sticker for die hard version: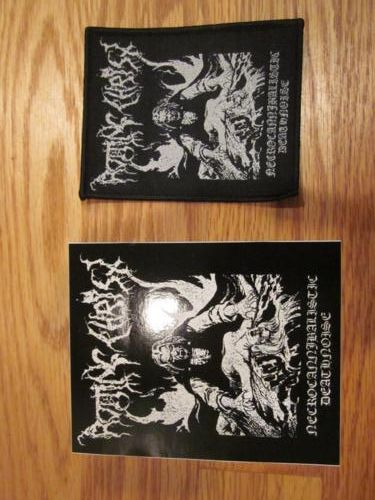 Die Hard version colored vinyl with Tinnemans art tapestry: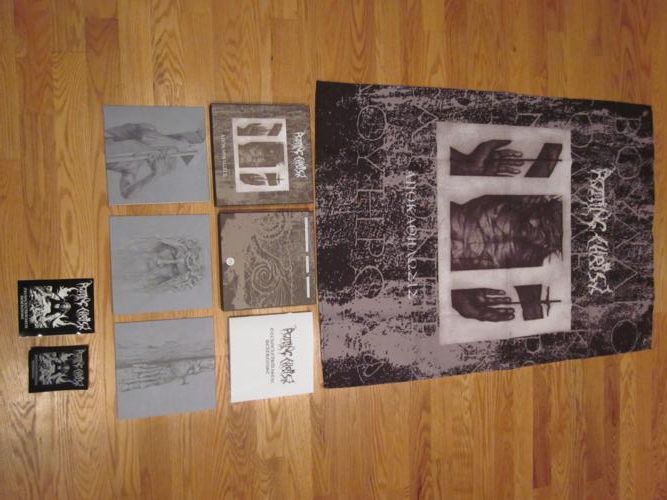 Die Hard version colored vinyl with vampire rape tapestry: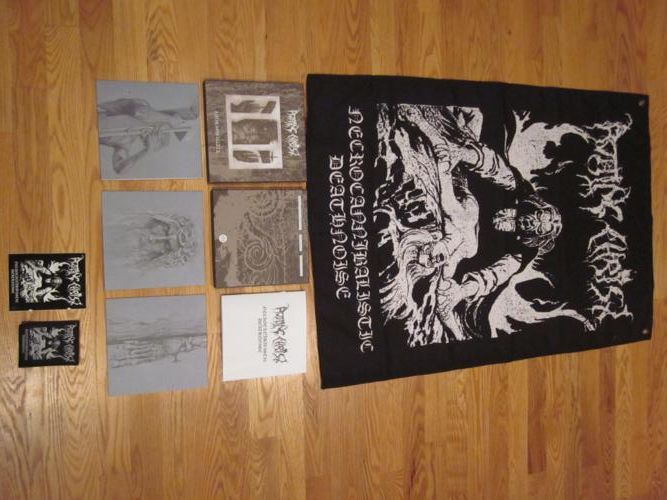 Click on images to see more photos.
(Description by J. Campbell)
This collection of Rotting Christ material represents the genesis of the archetypal Greek Black Metal sound. Recorded after Rotting Christ's debut MLP "Passage to Arcturo," these recordings detail the accretion of elements that would ultimately collide in a magnificent manner on the band's masterpiece "Thy Mighty Contract." These recordings show Rotting Christ seeking the perfect balance between the epic and the visceral and are all deeply stained with the morose and melancholy romanticism that Rotting Christ perfected before anyone else. Rotting Christ illuminated this particular chamber of Black Metal permitting a number of other bands of varying degrees of quality to rush in and try to follow; however, rarely has there been a Black Metal band as successful as Rotting Christ in generating a sense of atmosphere and emotional depth while simultaneously maintaining the cataclysmic potency of the music. To honor Rotting Christ's legacy, NWN! presents this 3 x 7" EP collection featuring reissues of the "Ade's Winds" demo and the "Dawn of the Iconoclast" and "Apokathilosis" EPs. With artwork by Manuel Tinnemans and design/layout work by TLMNN, this is among the definitive releases in the Rotting Christ catalog. There will also be a 12" picture disc version of these materials available at the NWN! Fest where Rotting Christ will perform material from the band's earliest releases.
Listen to the entire album here.
Regular version 2nd press: 3 x gold vinyl 7″s with picture sleeves, 12 page booklet and case wrapped box. Click here to order.
Die hard version 2nd press: 3 x cream colored vinyl 7″s with picture sleeves, 12 page booklet, case wrapped box, woven patch, vinyl sticker, and "Vampire Rape" art or Tinnemans art tapestry.