Nuclear War Now! Fest Vol. 4 Line Up Revealed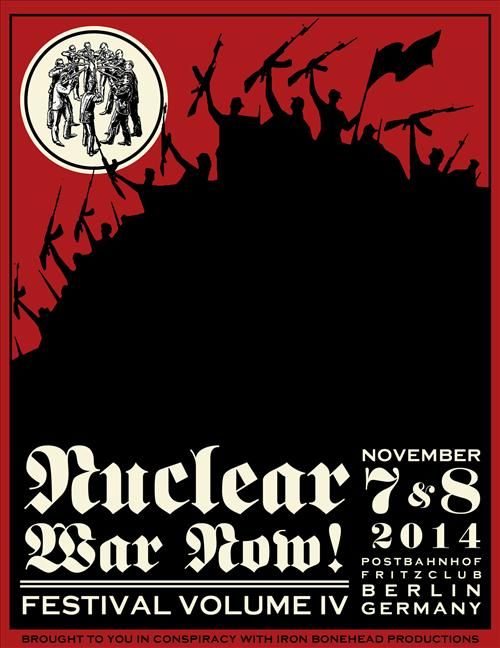 ACHTUNG!
Canadian Extremist Metal band Revenge has been confirmed to headline next year's Nuclear War Now! Fest. The band will be performing a special mixed set of Revenge and Conqueror songs in celebration of the 15 year anniversary of the release of the Conqueror War.Cult.Supremacy album. Joining Revenge for the Conqueror portion of the set will be R.Forster of Conqueror / Blasphemy. As many are aware Revenge is a direct continuation of Conqueror so this momentous occasion will be the first and more importantly the last time J.Read and R.Forster perform any Conqueror songs live together onstage. There will be no tours!…..no new albums!…..and no reformations!………….Prepare for TOTAL ANNIHILATION.
NUCLEAR WAR NOW! FEST VOLUME 4
November 7th and 8th 2014
Postbahnhof-Fritzclub, Berlin Germany
Nuclear War Now! Productions and Iron Bonehead Records continue the campaign of terror known as the Nuclear War Now! Fest. Begun in 2009, the fest has become a mainstay of the international underground metal scene. The 2014 fest lineup has settled into place and will be more monumental than any of its predecessors. Long time NWN! commandos Black Witchery (US) will make their 4th appearance at the fest; and, so devastating were the performances of Bestial Raids (Pol) and Demonomancy (Ita) in 2012, that NWN! and Iron Bonehead have redeployed these troops. Newly initiated into the NWN! militia and performing at the 2014 fest are Mefitic (Ita), Katechon (Nor), Hellvetron (US), Witchcraft (ex-Black Feast) (Fin), Armour (Fin), and Irkallian Oracle (Swe). Also at the 2014 fest will be some of the most impressive new Australian acts. Having turned in two of the best debut albums in recent memory, NWN! and Iron Bonehead felt duty-bound to bring Sacriphyx and Grave Upheaval to invade European soil for the first time. Likewise, Brazilian veterans, Impurity, will lay waste to Berlin on their first trip to Europe. Equally astounding will be the resurrection of Nocturnus (US). With the release of "The Key" in 1990, Nocturnus established themselves as among the most unique within the classic Florida Death Metal scene. NWN! and Nocturnus have been preparing for the release of the band's demo material for some time and, in honor of that collaboration, Nocturnus will be performing at the 2014 fest. Finally, in addition to the historic performances described above, NWN! 2014's chosen headliner will ensure the infamous status of the fest. Revenge (Can) has proven their loyalty and valor in two previous deployments and will once more be called upon to lead the war march; however, joining Revenge for a special set of Conqueror material will be the legendary R. Forster (Conqueror/Blasphemy/Domini Inferi). This will be the first and only Conqueror performance in the history of the band, and bystanders should expect an unparalleled Superion assault.
Revenge / Conqueror (CANADA)
Nocturnus / Incubus (USA)
Impurity (BRAZIL)
Grave Upheaval (AUSTRALIA)
Sacriphyx (AUSTRALIA)
Hellvetron (USA)
Black Witchery (USA)
Bestial Raids (POLAND)
Mefitic (ITALY)
Katechon (NORWAY)
Armour (FINLAND)
Demonomancy (ITALY)
Irkallian Oracle (SWEDEN)
Witchcraft (FINLAND)
Official After show Party on all days @ Blackland Club.
Brought to you in conspiracy with Iron Bonehead Productions. Sponsored by Justine Productions.