Villains "Getting Crazy" T-Shirt Out Now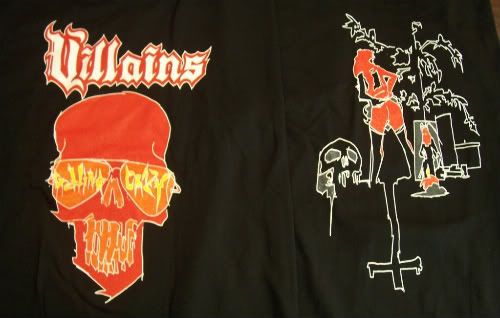 Available in sizes Medium, Large and XL.
Related Posts
Revenge "Scum.Collapse.Eradication" CD ANTI-GOTH 200 For over a decade, Revenge has persisted in cultivating what is arguably one of the most confrontational sounds in the metal underground. Immediate, controlled and ...

Snakepit Mag #21 + Oblivion "Quest For Power" 12″ or 7″ EP ANTI-GOTH 250 Perfect bound 120 pages with spine: 12″ EP version with all four songs. Lim to 250: ...

NUCLEAR WAR NOW! FESTIVAL VOL. III November 8th, 9th, 10th 2012 Berlin Germany 11/8: Blackland Club Abigail Bunkur Perversor Vanhelgd Demonomancy 11/9 and 11/10 : Postbahnhof-Fritzckub 11/9 Rotting Christ Ares ...