Sabbat "Sabbatical Earlyearslaught" Boxset Out Now!
I'm looking for reliable distros in the following regions:
Mexico
Chile
Peru
Thailand
Singapore
Malaysia
Postage can be expensive but sending one copy is even more expensive. The wholesale rate for the regular version is $75 each with min of 5 copies.
Email me: nwnprod@gmail.com
Sabbat "Sabbatical Earlyearslaught" Boxset
ANTI-GOTH 222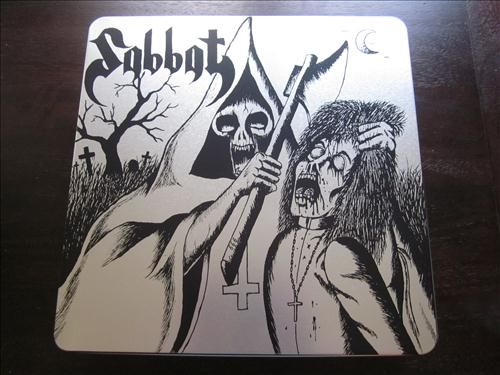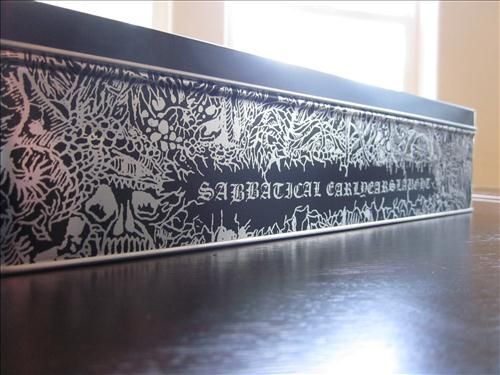 Timeline poster: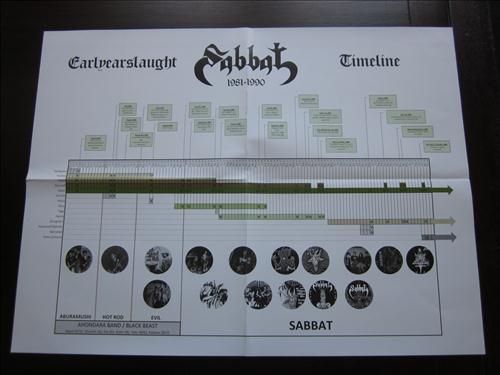 Otherside of poster: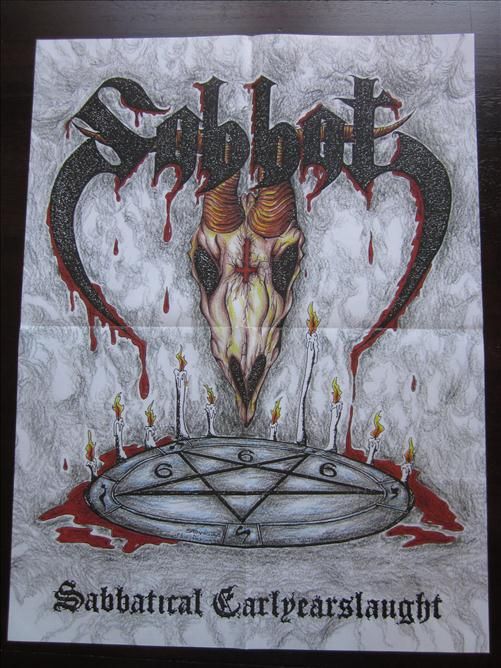 140 page hardbound book: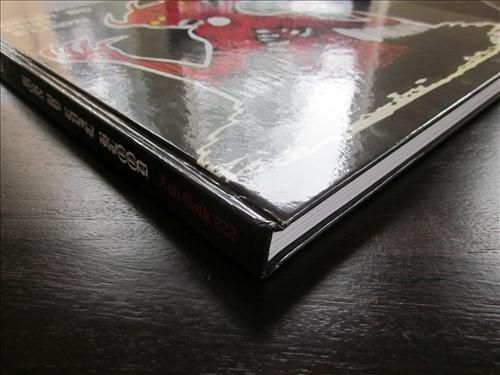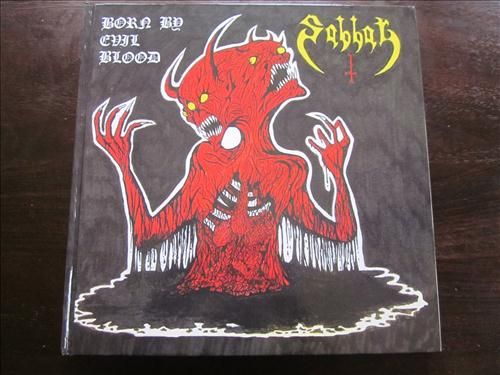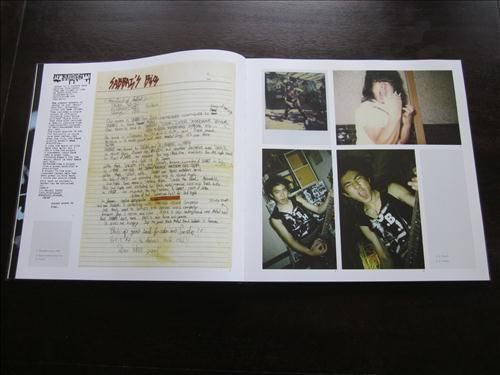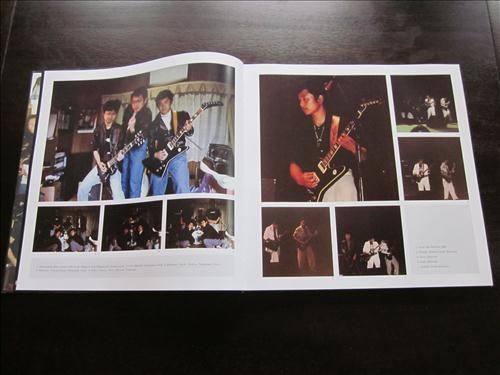 Regular version: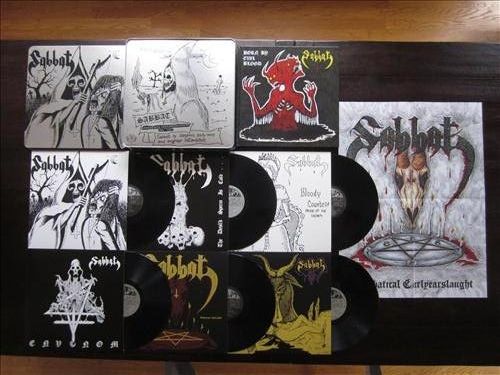 Die Hard version: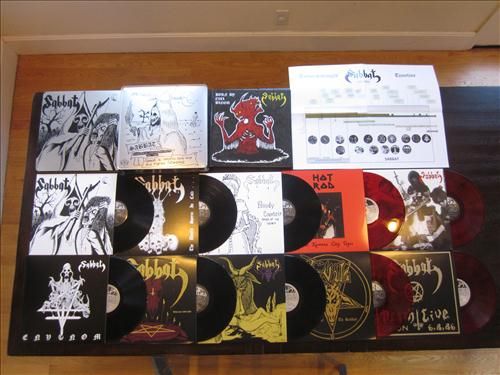 Die Hard version tapestry, patch, sticker and 2xDVD: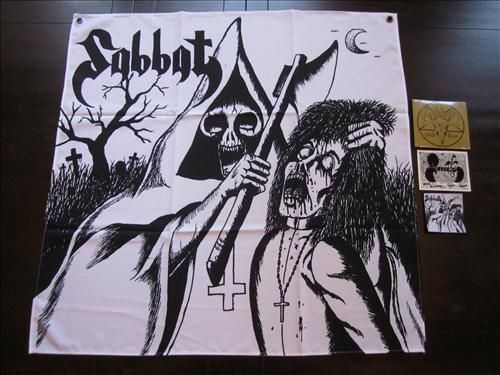 The history of Sabbat is entirely unique within the underground metal scene. No other band rivals Sabbat in terms of longevity, consistency, and dedication. While the musical history of Sabbat's members extends back even further, the commonly accepted point of origin for the band was in 1984 when Gezol along with drummer Valvin and guitarists, Elizaveat and Ozny, having previously operated under the name Evil, changed their name to Sabbat. The next year the band recorded, produced, and released its first EP. Influenced by more sinister strains of underground heavy metal and decidedly evil and Satanic imagery, Sabbat endeavored to push metal to its logical extreme and, as a result, Sabbat is among those few bands that ushered in the first wave of Black Metal. Released in 1985, the self-titled 7" contained early versions of "Mion's Hill" and "Black Fire." As relevant today as when they were first released, these songs remain staples of the Sabbat catalog – a testament to the durability of Sabbat's sound through the decades. Although Sabbat continunally pushes the boundaries of their style (see, for instance, 1996's "The Dwelling" album, which consists of one 60 minute epic track), they also display a certain conservatism in their approach which has resulted in Sabbat's refusal to deviate from its established sound and aesthetic. Such conservatism is rooted in Gezol's and the other members' complete devotion to Metal as a genre of music and as a lifestyle. Their music emanates from this total passion for Metal. For the last 30 years, Sabbat has remained the most prolific and authentic Black Metal band in the world. In 2011, Sabbat released its ninth proper full-length entitled "Sabbatrinity," which fell perfectly in line with the other releases in the Sabbat catalog despite the recent addition of Damiazell on guitar following Temis Osmond's departure in 2005. Until that time, Sabbat had suffered no line-up changes since 1990. In fact, there have only been eight official members of Sabbat, an astonishing feat for such an active and long-lasting underground band. It goes without saying that Sabbat could have signed to a much bigger label and exploited their sound, which very likely would have garnered them greater monetary success and widespread popularity. One of the most important facets of Sabbat's identity, however, is the band's commitment to the underground. Throughout the years Sabbat has either self-released or turned to reputable underground labels (most often Germany's legendary Iron Pegasus label) for their more prominent works as well as allowing countless smaller labels the opportunity to release some of the hundreds of rehearsal or live recordings the band has made. Gezol continues to keep his day job, refusing to treat Sabbat as a job or career because, to do so, would violate the principles upon which the band is based. This incorruptibility ensures the continued quality and integrity of Sabbat's music. Refusing to compromise in this regard, Sabbat has truly earned its place in Black Metal history. In honor of Sabbat's 30 year anniversary, Nuclear War Now! Productions presents the most extensive collection to date of Sabbat's earliest material from the band's inception to the 1991 release of the debut full-length, "Envenom." For the last four years, NWN! has worked closely with Gezol and other Sabbat members to assemble the most thorough record of the band's development. All of Sabbat's five early EP's are included. Some of Sabbat's original "tape only" releases are also featured in this box including the "Bloody Countess" tape, which was released in the early 1990s, but features a selection of tracks recorded at SK Hall in the mid-1980s and the "Sabbatical Demon" demo released in 1990. In addition to these seminal recordings, this box includes the "Rough Mix Version" of the "Envenom" album that the band released on tape in the mid-1990s as well as some of the band's earliest rehearsal recordings. Accompanying the six LPs is a 140-page hardbound book featuring previously unseen photos, notes, and biographical material. The Die Hard edition explores the depths of Sabbatical history, assembling four additional LPs featuring the extant material from pre-Sabbat projects such as Hot Rod (Iron Maiden cover band) and Evil (Venom cover band) as well as additional early rehearsal and live material culled from Gezol's personal tape collection. The Die Hard edition will also include a patch, sticker, 36" x 36" tapestry of artwork from the first EP, and two DVDs featuring the earliest video footage of the band.
Regular Version: 6 x LP, 140 page hardbound book, double sided A2 poster.
Die Hard Version: 10 x LP, 140 page hardbound book, double sided A2 poster, 36″x36″ tapestry of the first EP cover, 2 x DVD of all footage from the 80′s (with gold cover instead of metallic purple), patch and sticker. !!!SOLD OUT!!!
Sabbat / Born by Evil Blood / Desecration
LP 1
A1: Black Fire1
A2: Mion's Hill1
A3: Satanic Rites – Curdle the Blood2
B1: Poison Child2
B2: Welcome to Sabbat – Crest of Satan3
B3: Children of Hell3
B4: Darkness and Evil3
The Devil's Sperm is Cold / The Seven Deadly Sins / Sabbatical Demon
LP 2
A1: Immortality of the Soul4
A2: Hellfire4
A3: Possessed the Room (Kanashibari)5
A4: Sacrifice of Angel5
B1: Crying in Last5
B2: Witch's Mill6
B3: Black Fire6
B4: Rage of Mountains6
B5: Mion's Hill6
Bloody Countess
LP 3
A1: Splatter
A2: Bring me the Head of Satan
A3: Bloody Countess
A4: Panic in the Head
A5: Poison Child
B1: Madara No Tamago
B2: Children of Hell
B3: Kanashibari
B4: Bloody Countess
Envenom Rough Mix
LP 4
A1: Satan Bless You
A2: Reek of Cremation
A3: Devil Worship
A4: Eviler
A5: Deathtemptation
B1: The Sixth Candle
B2: King of Hell
B3: Carcassvoice
B4: Dead March
B5: Evil Nations
Asai Cleaning 2F Rehearsal
LP 5
A1: Welcome to Sabbat
A2: Panic in the Head
A3: Bring me the Head of Satan
A4: Wolfman
A5: Children of Hell
B1: Black Fire
B2: Mion's Hill
B3: Headbanging
B4: C.D.E.
B5: C.D.E. (Take 2)
B6: Welcome to Sabbat
Unreleased and Alternate Takes
LP 6
A1: Headbanging (Version 1 Mix 4)7
A2: Headbanging (Version 2 Mix 2)7
A3: Madara No Tamago (Mix 3)7
A4: Kanashibari7
B1: Satan Bless You (Mix 2)8
B2: Evil Nations (Fade Out)8
B3: Satan Bless You (Fade Out)8
B4: Lady Lust9
B5: Welcome to Hell9
B6: Panic in the Head9
Hot Rod – The Kuwana City Tapes
LP 7 -DIE HARD ONLY-
A1: Iron Maiden
A2: Sanctuary
A3: Prowler
A4: Remember Tomorrow
A5: Another Life
B1: Killers
B2: Prowler
B3: Transilvania
B4: Iron Maiden
B5: Sanctuary
Evil – Welcome to Sabbat
LP 8 -DIE HARD ONLY-
A1: Black Metal
A2: To Hell and Back
A3: Countess Bathory
B1: Sacrifice
B2: Welcome to Hell
B3: In League With Satan
SK Hall Rehearsals
LP 9 -DIE HARD ONLY-
A1: Panic in the Head
A2: Kanashibari
A3: Immortality of the Soul
A4: Splatter
B1: Welcome to Sabbat
B2: Immortality of the Soul – Sound Check
B3: Panic in the Head
B4: Splatter
B5: Kanashibari
Death Live Geion June 8th 1986
LP 10 -DIE HARD ONLY-
A1:Opening
A2: Welcome to Sabbat
A3: Splatter
A4: Bloody Countess
B1: Intro of C.O.H.
B2: Kanashibari
B3: Black Fire
B4: Mion's Hill
Index:
1 Sabbat 7″
2 Born by Evil Blood 7″
3 Desecration 7″
4 The Devil's Sperm Is Cold 7″
5 The Seven Deadly Sins 7″
6 Sabbatical Demon Demo
7 Unreleased 80′s recordings
8 Alternate Envenom Mix
9 Live Aug 19th 1984 Kuwana City Hall
LPs 7-10: Included in Die Hard version only
===========================================================
SABBAT "Sabbatical Earlyearslaught" DVD 1
ANTI-GOTH 222
Yokkaichi Culture Hall / Mie – 11th May 1986
Line Up: Gezol (B,Vo), Elizaveat (G), Ozny (G), Samm (Dr)
1. Kanashibari
2. Black Fire
3. Mion's Hill
———————————————————–
Nagoya Castle / Nagoya – 3rd August 1986
Line Up: Gezol (B,Vo), Elizaveat (G), Ozny, (G)Samm (Dr)
1. Black Fire
———————————————————–
Huck Finn / Nagoya – 2nd May 1989
Line Up: Gezol (B), Zorugelion (Dr), Barraveat (G), Possessed Hammer (Vo)
1. Satanic Rites – Crest of Satan
2. Darkness and Evil
3. Kanashibari
4. Black Fire
All footage taken from Gezol's Sabbatical Archives
Produced by NWN! Productions and Justine Media Productions
===========================================================
SABBAT "Sabbatical Earlyearslaught" DVD 2
ANTI-GOTH 222
Yanta Rockmaykan / Osaka – 5th April 1987
Line Up: Gezol (B,Vo), Elizaveat (G), Samm (Dr)
1. Intro
2. Satanic Rites – Curdle the Blood
3. Poisonchild
4. Long Way to the Beyond
5. Crest of Satan
6. Welcome to Hell
7. Mion's Hill
8. Immortality of the Soul
9. Black Fire
All footage taken from Gezol's Sabbatical Archives
Produced by NWN! Productions and Justine Media Productions
Distributed in Europe by Iron Bonehead (Both) and PHD (Regular only). Distributed in Japan by Record Boy (Both).
Wholesale is only available on the regular version. Email directly to get a quote: nwnprod@gmail.com