Sabbat "May – Black Fire Worldwide" Raglan "Baseball" Shirt Out Now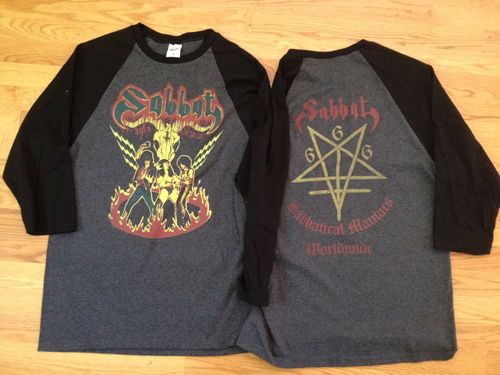 Sabbatical EarlyearslaughT-Shirt series returns with a KILLER exclusive design by the mastermind behind Obsessed by Cruelty Merch Sweden. OBC is known for perfectly capturing the spirit of 80′s merch with iconic, bold images. This Venom-ish design is printed with discharge/aqueous ink on Anvil 50/50 Raglan shirts. Also available as 4″ woven patch with metallic gold border, and 36″x52″ cloth tapestry. Order them together and save $6.
Anyone interested in custom ordering shirts for their country, city, region, state, whatever, email me at nwnprod@gmail.com for pricing. Custom shirts can be printed on any brand, color, T shirts, Long sleeves, or baseball Raglan LS. Be aware that the minimum will be about 30 units for any custom prints.
-Sabbatical EarlyearslaughT-Shirt Series-
It is now the 30th Sabbatical year! NWN is celebrating this special year by unleashing a new series of high quality Sabbat merchandise. All Elizaveatian designs are printed on Gildan brand TS and available in sizes S to XL. Distributed in Europe by Iron Bonehead, and in Japan by Record Boy.