Vanhelgd LP, Proclamation CD and Citizens Arrest DLP Out Now
Proclamation "Execration of Cruel Bestiality" CD
ANTI-GOTH 128
Proclamation have returned for the third time to spill the blood of the angel of doom…. For most, little needs to be said of Proclamation. By now, their methodology is renowned and respected. For the uninitiated, however, Proclamation arrange and rearrange the structures advanced by the legendary Blasphemy making no attempt to conceal their reverence for the desecrators. Rather, Proclamation seeks to preserve the legacy of this style of black metal at a time when so many less deserving bands seem intent on torturing it. Improving with every album, on "Execration of Cruel Bestiality" Proclamation demonstrate once again their ability to concoct seemingly endless permutations of the archetype, each one more potent that the previous. This is perhaps the finest offering Proclamation has yet delivered. The blasphemic cancer has metastasized once again.
Vanhelgd "Cult of Lazarus" LP
ANTI-GOTH 131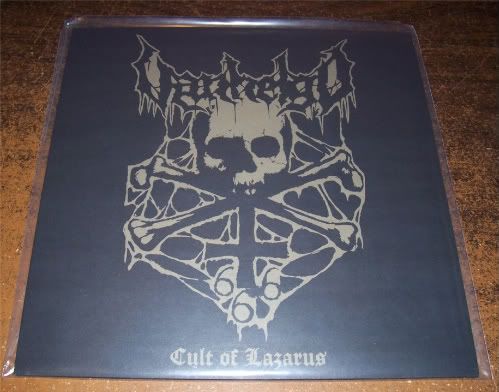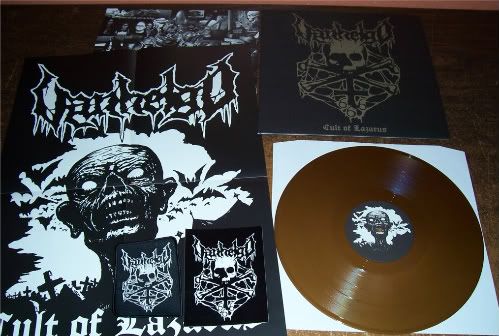 "Cult of Lazarus" is the sound of flesh peeling away from muscle and bone…the gurgling sound emanating from the back of the throat and a frantic last gasp for air…the necromantic desecration of rotten corpses…the sound produced as the body swings to and fro at the end of the noose. This album is among the finest manifestations of death metal to ascend from the putrid land of Sweden in this decade. Although Vanhelgd play death metal in the Swedish tradition, they incorporate elements of vileness and darkness that are sometimes less emphasized by other adherents to that style. Guitars drenched in a sickening distortion produce riffs that are the aural equivalent to the stench of burning skin and hair. Vanhelgd utilize a drum sound that is raw and natural without any unnecessary studio processing. Meanwhile, the vocals invoke visions of murder committed in the grip of schizophrenic terror. This band follows the blueprints of death metal, and does so with a precision and devotion that is nearly unrivaled in the current scene. Vanhelgd seem to eschew any effort to entwine themselves with the rise of intellectual death metal and maintain a purity that is incredibly refreshing amid the context of the recent movement in death metal. Steeped only in the aesthetics of death and decay, "Cult of Lazarus" is an exceptionally massive debut recording by a new band that infuses the worship of death with a unique mania that produces tremendous results. This LP should not be overlooked.
Regular version includes reverse board printed jacket, double sided A2 poster, 12″x12″ insert and 160 gram vinyl. Die hard version on bronze vinyl also includes patch and sticker.
Click here to order the regular LP
Click here to order the die hard LP
Citizens Arrest "Colossus" Double LP
CELL 007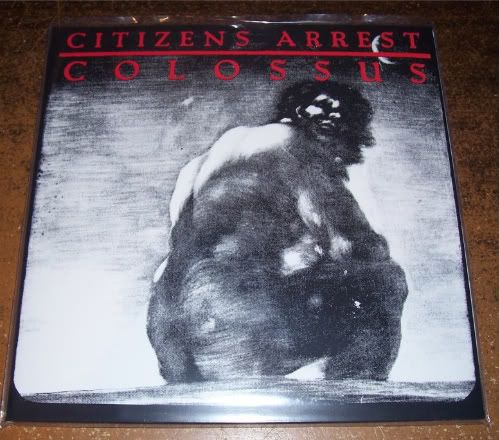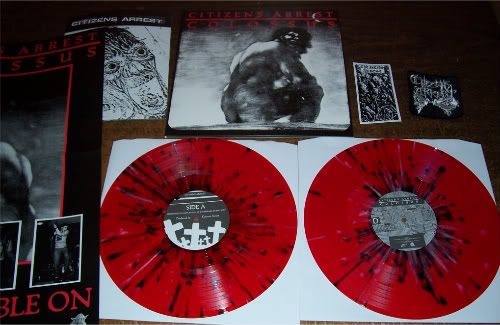 Citizens Arrest were a hardcore punk band that formed in the Lower East Side of Manhattan and existed from 1988-1990. They played a bunch of shows at legendary punk venues like CBGBs and ABC No Rio. Considered to be a seminal New York hardcore band by many, their short-lived reign exists within a demo, a 7″ EP, some comp tracks, and a full-length album. Heavily influenced by S.O.A., Negative FX, and Siege, this record amalgamates gruff vocals with extremely raw, fast hardcore.
This discography release contains pretty much everything they recorded including their 1989 demo, 7″, compilation tracks, album, unreleased Red C cover with Daryl on vocals, and a live recording with Daryl on vocals. The 8″ live flexi was left out due to its bad sound quality. All copies come housed in quality gatefold jacket and includes a double sided A2 poster and zine styled booklet with old photos and additional information about each release. Die hard version on splatter colored vinyl also includes patch and sticker.
Click here to order the regular DLP
Click here to order the die hard DLP