Satanas "Live Rehearsal 1988″ MLP Out Now
Satanas "Live Rehearsal 1988″ MLP
ANTI-GOTH 185 / HSSR-010.5
(Description by J. Campbell)
For the past year, NWN!, working closely with Sabbat-founder, Gezol, engaged in a campaign to celebrate and honor the 30 year history of Japan's legendary Black Metal pioneers, Sabbat. Most notably, the "Sabbatical Earlyearslaught" box set led to the unearthing of a wealth of obscure, overlooked, and intriguing Sabbat and Sabbat-related material. Those who read closely the text in the accompanying book (meticulously researched and written by Craig "Ixtab" Conrad) will no doubt have had their interest piqued by the reference to Satanas. Gezol's brother, Samm, who was the original Sabbat drummer (and later played in Sacrifice and Magnesium among other bands), formed Satanas around 1988 during a dormant period in Sabbat's history in which the latter was on a hiatus from performing live. Samm, who played guitar in Satanas, recruited drummer Zorugelion as well as another guitarist named Zakingtaaman. Of course, this is significant because, a few years later Zorugelion would replace Samm as the drummer for Sabbat after Samm began dedicating himself full-time to his work with the aforementioned Sacrifice. Given the subsequent history of the musicians in Satanas, it is easy to understand why the recovery of a recording by this band would be valuable. As it happens, there is a single rehearsal session that was recorded and preserved through the years, and it is every bit as fascinating, both musically and historically, as one would expect. Sonically speaking, Satanas veered toward a thrashing style infused with a palpable evil representative of the band members' Black Metal proclivities. (The cover of Sodom's "Outbreak of Evil" featured on this rehearsal recording provides some indication of Satanas' primary influences.) The sound of the recording itself is raw, but the instruments and vocals are audible, and the primitive nature of the recording enhances rather than detracts from the impact of this release. This is the only extant recording of this band that formed a critical point in Japanese Black Metal's evolutionary arc. Had Satanas continued, it is probable that any subsequent studio recordings would have elevated the band into the upper echelon of Japan's early Black Metal acts. Instead, fate intervened, the band dissolved, and Satanas remains a curious footnote in the history of the scene. The music, however, speaks for itself and is worthy of reverence based upon its intrinsic musical merit. In order to secure the permanence of this phenomenal recording, NWN! teamed up with High Society Satanic Records to commit this rehearsal to vinyl and thereby solidify the legacy of this interesting project.
Distributed exclusively in Japan by Record Boy.
Also available separately: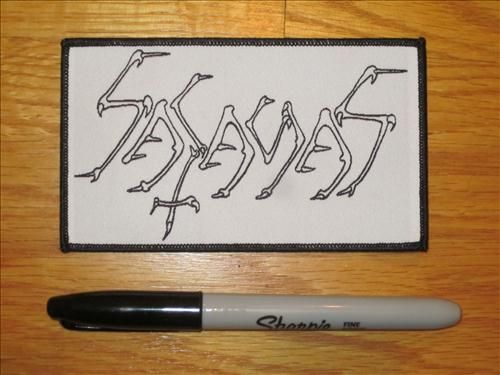 4″ woven patch limited to 100 pcs.