NWN Bunker Update!
To NWN customers and supporters:
Since the last update, a couple of important milestones have been reached in progress towards NWN!'s move into its long-awaited, permanent warehouse headquarters in East Oakland. On Friday, July 1st, we signed the necessary paperwork to close the escrow and officially transfer the ownership of the property to us. As a result, and in perhaps the most significant single moment of this entire venture, the keys to the building were handed over to us! I took the time this weekend to take some photos of the property in its current state, and I am sharing them here. However, keep in mind that a great deal of demolition and construction is yet to be done in order to partition the property into separate sub-spaces for NWN! and its partners and prepare the building for its intended uses. Furthermore, structures will need be built in the NWN! bunker and storefront sub-spaces in order to maximize storage and display potential. Within just a matter of days, we hope to get this construction project underway with the hopes of meeting an approximate target date of September 15th 2016 for having the building fully operational. Needless to say, much work still needs to be done in the interim, but we will carry on with the same steadfastness that has gotten us to this point until our goal has achieved its fruition. As always, we offer our most sincere appreciation to any and all who have supported us directly and indirectly in this venture!
YK/NWN
7/11/16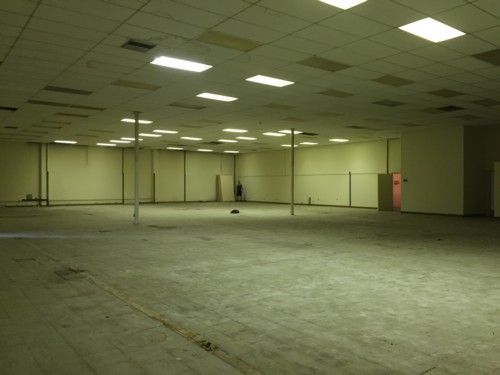 Office space: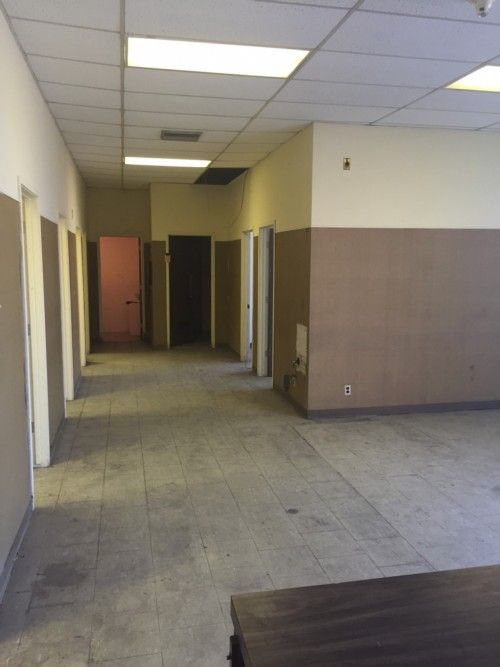 Record store space:

May 20th Update:
As recently reported, NWN has secured its long-term, future location in East Oakland. This 14,000 sq. ft. (1300 sq. meters) warehouse will include approximately 6000 sq. ft. of storage space for the label, an NWN storefront, and a rental unit. Additionally, half of the building will be occupied by my business partner's all-analog recording studio. This partnership, and the contiguous nature of our spatial arrangement, will offer some exciting opportunities for NWN bands to record in the very same building where the label is headquartered. We have already had some very preliminary discussions with NWN-allied bands regarding this possibility.
That said, much work is left to be done before this space will become fully operational. Before the move itself can occur, a significant amount of construction will be done to the interior in order to partition the separate sub-spaces and build the necessary vertical structures for storage purposes. Of course, the first step in construction will be the destruction of the current interior structures that we will not be using. Although we have already received quotes from several contractors, they have varied widely in projected costs, which has influenced our current thinking to try doing some of the demolition work ourselves. At the very least, the current interior floor tiles, which contain asbestos, will need to be professionally removed.
Regardless of the financial and physical challenges that these looming projects pose, we are moving forward as swiftly and purposefully as possible. Our loan was officially approved by the lender this week, an escrow account has been opened, and a significant portion of the down payment has been made. We have also passed the required building inspection and environmental inspection, both of which were required before we can close on the property.
As our progress towards this monumental goal continues, we will be sure to keep you all informed. As always, thanks for your support!
Original message from a year ago:
Over the course of the past 15 years NWN has gone from a one man operation working out of a corner of the garage in an apartment in South San Francisco, to taking over nearly 1/3 of my current home plus two storage spaces in Oakland. Needless to say, the growth has come at the expense of personal space and efficiency. Storage for the label consumes the garage level and lower level of my home. I spend a great deal of time running up and down the stairs to pull records for orders, and records are often lost or misplaced resulting in them being listed as out of stock, when, in fact, they are still available. At this time, there is literally no more room to expand in my current home, and I need to look elsewhere. Also, storage in the garage level is concerning because, although it has never happened, weather conditions may arise that could lead to damage of the inventory.
The answer, of course, is to get more space. Geographic limitations make it impossible to add on to the house, especially given the amount of space that is required to make the operation more manageable. The only workable solution is to buy or rent a warehouse in Oakland. As anyone living in the Bay Area knows, rent prices are unreasonably high right now while mortgage interest rates remain very low, therefore making this a great time to invest in a warehouse. To this end, I've teamed up with two other Oakland-based businesses to buy a 10,000 sq. ft. warehouse in Oakland. The plan is to combine our resources and buy a bigger space to get "economy of scale" on our side. We will subdivide the space into three sections and run our businesses independently.
In the next coming weeks and months, I will be listing a lot of personal records, NWN test presses, and other rarities in order to raise the necessary funding for the project. After assessing the needs of each of our businesses, the other investors and I arrived at the conclusion that we need a 10,000 sq. ft. space in order to accommodate the storage and equipment needs of each business. The cost for such a space is about $800K to $1M. This means, each of the three investors must raise $70,000 to $80,000 for the down payment, and we set the deadline for spring 2016.
I would like to extend my gratitude to everyone who has supported NWN over the past 15 years. I hope to continue this label for years to come, but need your help once again to obtain more space so I can start a new chapter of NWN.
Never Surrender,
YK
NWN Productions LLC
Oakland California