Sadistik Exekution "30 Years of Agonizing the Dead" LP/LP+7″ Out Now
Sadistik Exekution "30 Years of Agonizing the Dead" LP/LP+7″
ANTI-GOTH 293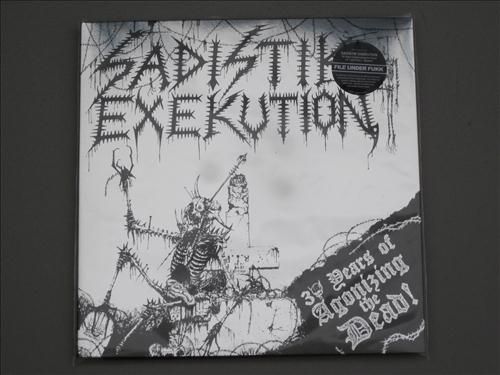 Regular black vinyl LP: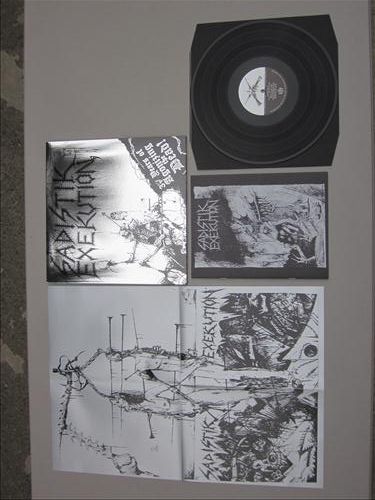 Wholesale purple vinyl LP: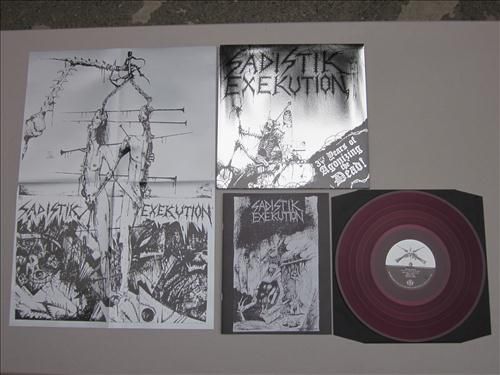 Die Hard gold vinyl LP+7″: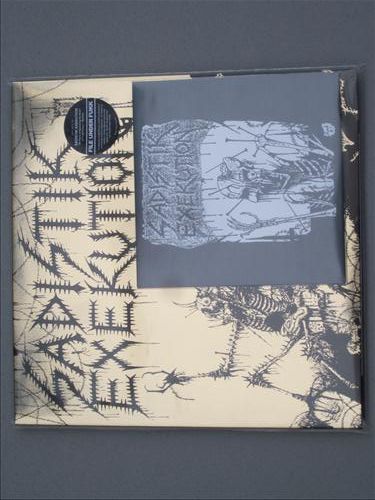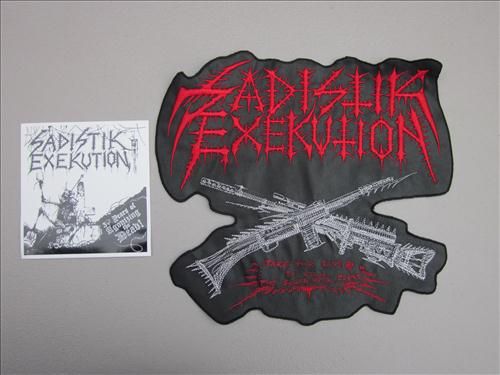 One of the most vile and tormented sounds to ever exist is the "Mental Metal Musik" belonging to none other than the now infamous Sadistik Exekution of Sydney, Australia. Although these lunatiks gained much of their notoriety from their full-length albums, the full scope of Sad-exe's unforgiving violence cannot be entirely appreciated without proper exposure to the atrocities committed on their demos and EPs. Nuclear War Now! has conspired with none other than Dave Slave himself to dig up several of these wretched slabs of audial torment and once again offer them posthumously to any who dare expose themselves to such vileness. This LP release of "30 Years of Agonizing the Dead" (AKA "Sadistik Exekution's Shittest Hits") compiles two of these demos – "Agonizing the Dead" (1992) and "Suspiral" (1991) – as well as two EP singles – "Demon with Wings" (1996) and "Sadistik Elektrocution" (1997) – for your listening displeasure. Also included is a 20-page booklet featuring incriminating band photos from the era, the unmistakably demented artwork of Rok, and a recent, never-before-seen interview with Mental Metalkutioner, Dave Slave. In case that isn't enough for you, NWN! has also released a die-hard (AKA "dick-hard") LP version that includes the rare "Rehearsal Demo 1987" as a bonus 7" EP for the most masokistic among us. Thanks for listening… FUKK YOU!
Regular version: Black vinyl LP, silver foil gatefold jacket, A2 poster, and zine booklet.
Wholesale version: Sold in increments of 2 purple (Lim to 100 copies) and 8 black vinyl LPs.
Die Hard version: Gold vinyl LP, bonus 7″, gold foil gatefold jacket, A2 poster, zine booklet, 12″ faux leather back patch, and sticker.
Agonizing the Dead Demo 1992
Label: Originally self-released by the band
Studio: Recorded by Herman Kovac at Ramrod Studios in 1988
• Agonizing the Dead
• Magus
Suspiral Demo 1991
Label: Originally self-released by the band
Studio: Loft Soundhouse
• Suspiral
• Ipsissimus
Demon with Wings EP 1996
Label: Originally released by Osmose Productions
Studio: Recorded by Captain Fruitcake in his home studio in 1996
• Proxima Centauri
• Demon with Wings
Sadistik Elektrokution EP 1997
Label: Originally released by Shock Australia
Studio: Recorded at Audio Infinity and mixed/mastered by the Undertaker
• Sadistik Elektrokution (Bastard Mix)
• Voltage by Sadism
• Bastard Bass Solo
Die Hard version only 7″:
Sadistik Exekution 1987 Rehearsal Demo
Label: Self Released
Studio: Rehearsal space using a boom box
• Possessed Haemorrhage
• The Magus
• Sadistikly Exekuted
Also available from Sadistik Exekution:
Sadistik Exekution "30 Years of Agonizing the Dead" CD
ANTI-GOTH 293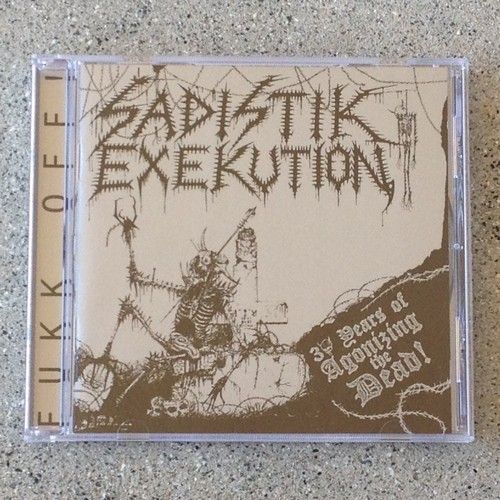 Sadistik Exekution "Suspiral" TS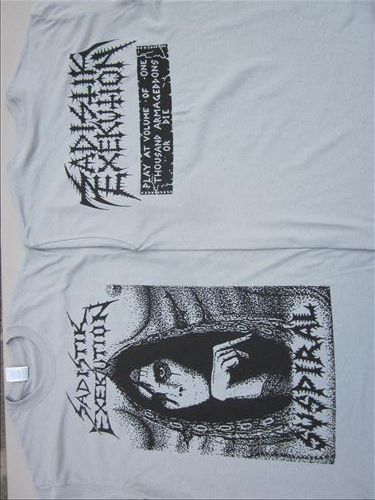 Sadistik Exekution "Demo 1987″ TS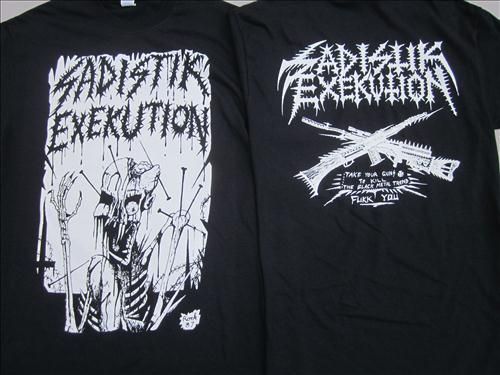 Sadistik Exekution "Agonizing the Dead" TS