Thou Art Lord / Ravencult Split 7″ In Stock Now
Thou Art Lord / Ravencult Split 7″
HFR010 / KYS029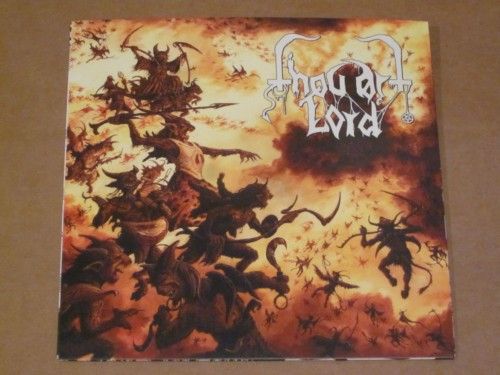 Released by Hell's Fire Records and Kill Yourself Productions Greece and limited to 666 copies. Thou Art Lord's side was recorded around the same time as The Regal Pulse of Lucifer, and like the aforementioned album, it harkens back to the glory days of the Greek Black Metal sound. In fact, Three Headed Hydra is the reason for NWN's signing of Thou Art Lord! This split is a must have for any Greek Black Metal fanatic. Just check out the song yourself here:
Side A:
1. Ravencult – Into Depths 04:52
Side B:
2. Thou Art Lord – Three Headed Hydra 04:07
- Black vinyl.
- Maelstrom performs drums for both bands.
Recording information:
Ravencult side:
Recorded at D Studio Athens, Greece 2014.
Mixed and mastered at 210 Studios Berlin, Germany.
Cover artwork by 9:DEATHOFTHEEAST:9.
Thou Art Lord side:
Recorded, mixed and mastered at Silicon Factory Studios Moschato-Athens, Greece.
Produced by Thou Art Lord.
All music and lyrics by Thou Art Lord.