Morbosidad and Necroholocaust Live Brazilian Ritual LPs In Stock
Released by Brazilian Ritual Records and Distributed by NWN!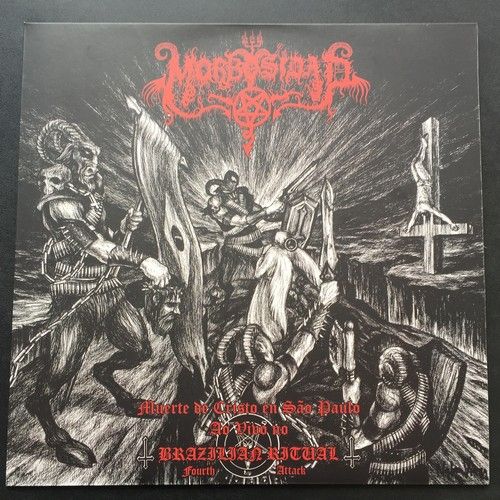 Morbosidad "Muerte de Cristo en São Paulo – Ao Vivo no Brazilian Ritual Fourth Attack" LP
Side A – Lado Brazilian
1. Altar de Sangre Negra
2. Cadáver Decompuesto en la Cruz
3. Bajo el Engendro del Crucificado
4. Dios Muerto
5. Sangriento Sacrificio Cristiano
6. Castración Bestial
7. Entre la Muerte y Desolación
8. Infierno Inmortal
Side B – Lado Ritual
9. En las Gallas del Infierno
10. In my Blood…
11. Tortura
12. Escupe la Maldita Cruz
13. Sangrado Cruz Invertido
14. Morboso Metal
15. Deathrash (Sarcófago cover)
Limited to 500 copies on black vinyl.
Necroholocaust "Brazilian Ritual Fourth Attack" LP
Recorded Live in São Paulo, Brazil, November 14th 2015.
Side A
1. Rive of Antichrist(Victory Command)
2. Deathraid of Intolerance
3. Sadomasorchrist
4. Colossal Goatfuck
5. Impurity
6. Black Altar
7. Inverted Christ
Side B
8. Goatvatic
9. I Kill for Satan
10. Slaugther the Lamb
11. Bleed the Baphomet
12. Worship the Goat
13. Werewolf, Semen and Blood(Beherit Cover)
Limited to 500 copies on black vinyl.