NUCLEAR WAR NOW! FEST VOLUME II
NUCLEAR WAR NOW! FEST VOLUME II
NOVEMBER 19th and 20th 2010
C-Halle, Berlin-Tempelhof, Germany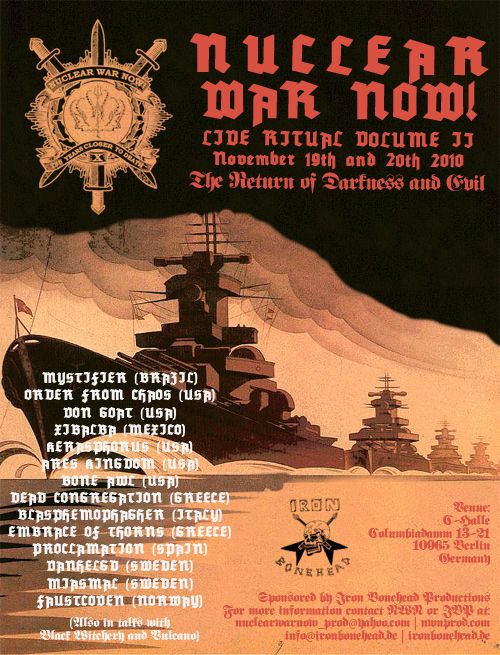 The Return of darkness and evil…
Last November saw the first ritual desecration of the city of Berlin by the Nuclear War Now! infantry. The first annual NWN! fest summoned together on a single stage a diverse array of metal styles spanning four continents. Just as the NWN! label always seeks to release the most elite practitioners of black, death, and thrash metal and the myriad combinations of those sub-genres, the annual NWN! fest is designed to showcase the most important live performances of bands affiliated with the label. Once again NWN! has allied with Iron Bonehead Productions to invoke yet another diabolical manifestation of evil and destruction that will lay waste to the city of Berlin again in November of 2010. In honor of NWN!'s 10th year of unholy nuclear annihilation, this fest will prove to be imminently superior to 2009's NWN! fest. The second annual ritual of plague and pestilence will include performances from the following:
Mystifier (Brazil) Brazilian black cult's first ritual in Europe. The performance will only focus on early material.
Order From Chaos (USA) Undeniably superior metal from the US. Beyond genre categorization. Their only performance in Europe for 2010.
Von Goat (USA) Goat, the mastermind behind Von's new project of primitive and schizophrenic black metal.
Xibalba (Mexico) Mexican black metal legends with their first appearance in Europe.
Kerasphorus (USA) Anticosmic occult black metal.
Ares Kingdom (USA) Expanding the limits of deathrash.
Bone Awl (USA) Existential anxiety put to music.
Dead Congregation (Greece) Darkest death metal
Blasphemophagher (Italy) Nuclear bestial desecration metal.
Embrace of Thorns (Greece) Ritualistic and occult bestial black metal.
Proclamation (Spain) Worship of the fallen angel of gods of war.
Vanhelgd (Sweden) Dark Swedish death metal
Miasmal (Sweden) Ancient death metal from the grave.
Faustcoven (Norway) Norwegian black doom metal.
(Also in talks with Black Witchery and Vulcano)
Additional details will be announced as they become available.
Venue:
C-Halle
Columbiadamm 13-21
10965 Berlin
Germany
Sponsored by Iron Bonehead Productions Germany
For more information contact NWN or IBP at:
nuclearwarnow_prod@yahoo.com | nwnprod.com
info@ironbonehead.de | ironbonehead.de