Vanhelgd "Cult of Lazarus" LP In Stock Again
Vanhelgd "Cult of Lazarus" LP
ANTI-GOTH 131
Repress of the LP from 2009. Some copies of the first press colored vinyl LPs were lost during shipping so the die hard version is available again.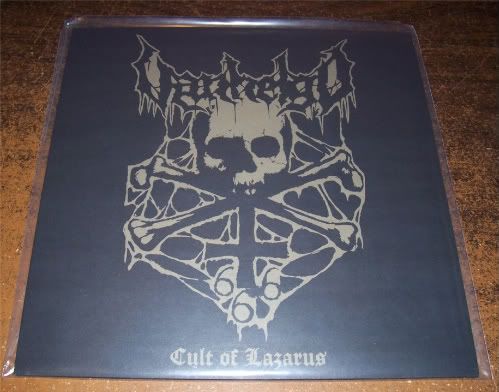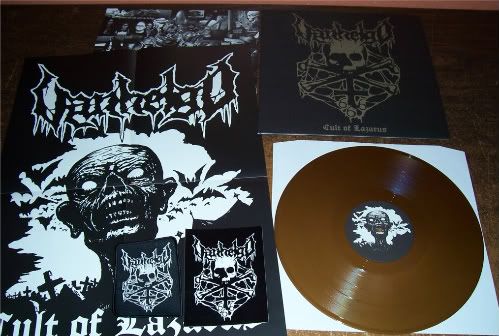 "Cult of Lazarus" is the sound of flesh peeling away from muscle and bone…the gurgling sound emanating from the back of the throat and a frantic last gasp for air…the necromantic desecration of rotten corpses…the sound produced as the body swings to and fro at the end of the noose. This album is among the finest manifestations of death metal to ascend from the putrid land of Sweden in this decade. Although Vanhelgd play death metal in the Swedish tradition, they incorporate elements of vileness and darkness that are sometimes less emphasized by other adherents to that style. Guitars drenched in a sickening distortion produce riffs that are the aural equivalent to the stench of burning skin and hair. Vanhelgd utilize a drum sound that is raw and natural without any unnecessary studio processing. Meanwhile, the vocals invoke visions of murder committed in the grip of schizophrenic terror. This band follows the blueprints of death metal, and does so with a precision and devotion that is nearly unrivaled in the current scene. Vanhelgd seem to eschew any effort to entwine themselves with the rise of intellectual death metal and maintain a purity that is incredibly refreshing amid the context of the recent movement in death metal. Steeped only in the aesthetics of death and decay, "Cult of Lazarus" is an exceptionally massive debut recording by a new band that infuses the worship of death with a unique mania that produces tremendous results. This LP should not be overlooked.
Regular version includes reverse board printed jacket, double sided A2 poster, 12″x12″ insert and 160 gram vinyl. Die hard version on clear vinyl (for 2nd press) also includes patch and sticker.
Click here to order the regular LP
Click here to order the die hard LP