Conqueror/Black Witchery Pic LP and Faustcoven DLPs Out Now
CONQUEROR/BLACK WITCHERY "HELLSTORM OF EVIL VENGEANCE" PICTURE LP
ANTI-GOTH 149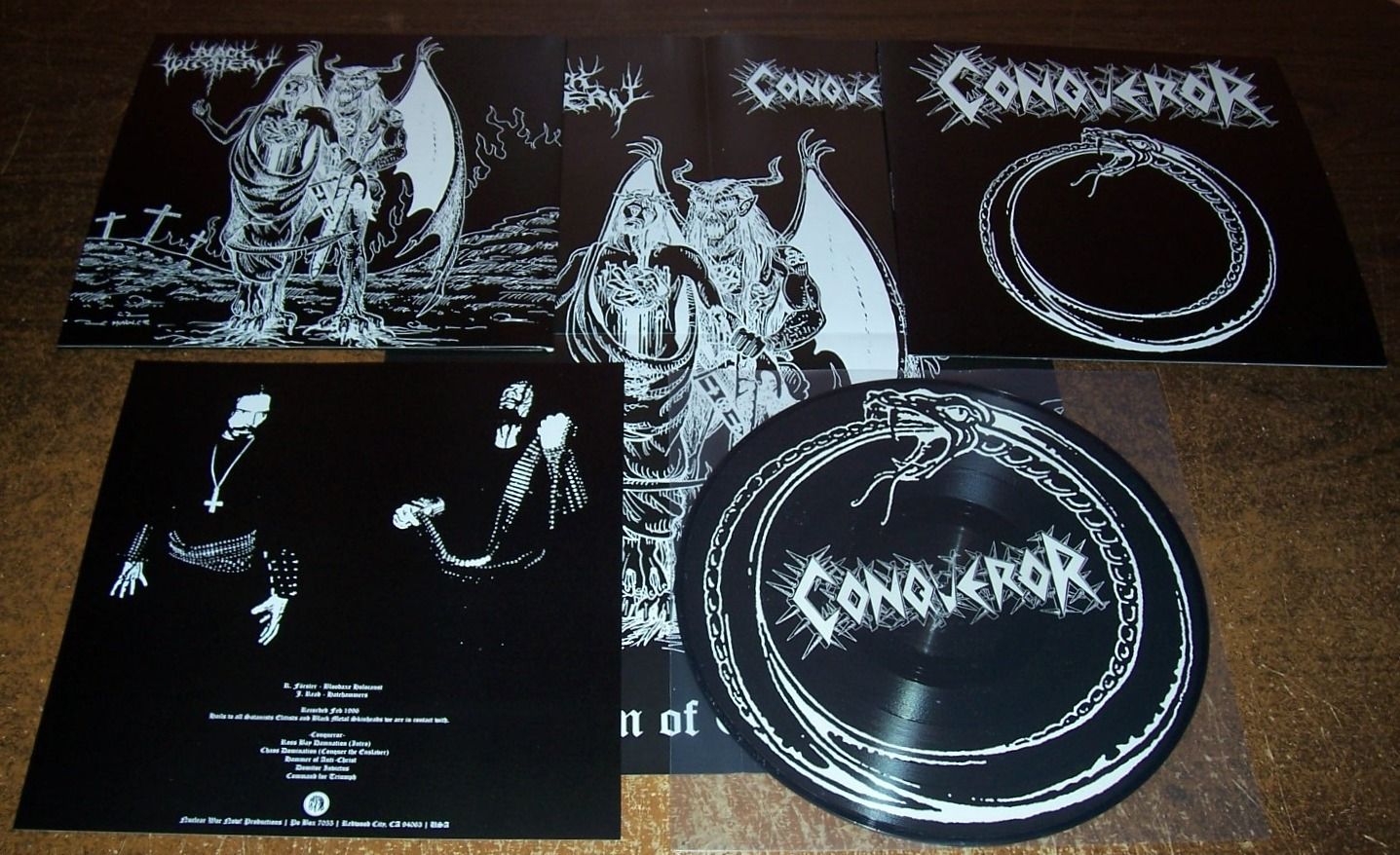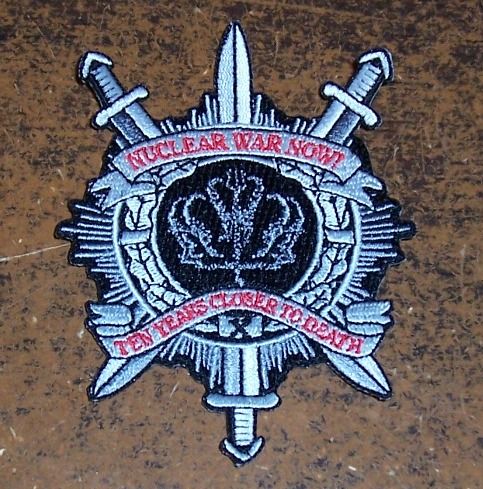 Click on image to see more photos.
When "Hellstorm of Evil Vengeance" was first released 10 years ago, it marked the dawn of a new era of metal. At that time, the bestial sound perpetuated by Blasphemy has become a lost relic as Blasphemy had been dormant for some 6 years and no band had effectively taken on the task of resurrecting their lost demonic art. Enter Black Witchery. At that time, Black Witchery had released just one demo and one EP. Their sound embodied the grave desecration and ritualistic spirit of the Canadian Desecrators and the Brazilian goat worshipping legions. In their unique necromantic fashion they invoked the sound of these dead Satanic entities, but established their own voice through which to channel their evil presence. United with Black Witchery on this split is the infamous Conqueror's "Antichrist Superiority" demo recording. When it was first released in 1996, this demo presented an entirely new interpretation of Black Metal. Combining the martial superiority of Order From Chaos with the bestial Satanic ferocity of Blasphemy, Conqueror created an entirely new breed of Black Metal. In many ways, this split album ushered in the second wave of the sub-genre often referred to as "Bestial Black Death" or "War Metal." At the time, however, such trite titles were unnecessary to describe the music on this album which simply represented the natural evolution of Black Metal to an even greater extreme than had ever before been attained. Now 10 years have passed and this album is a monument that still stands intact and unviolated by the passage of time. As part of its "10 Years Closer to Death" campaign, Nuclear War Now! is honored to reissue this split LP with a new layout. Featuring the original artwork created by Chris Moyen as well as the original "Antichrist Superiority" demo artwork, the contempt and hatred emanating from this album will once again flood the earth.
First 200 orders will also receive the NWN "10 Years Closer to Death" patch.
FAUSTCOVEN "THE HALO OF BURNING WINGS" DOUBLE LP
ANTI-GOTH 145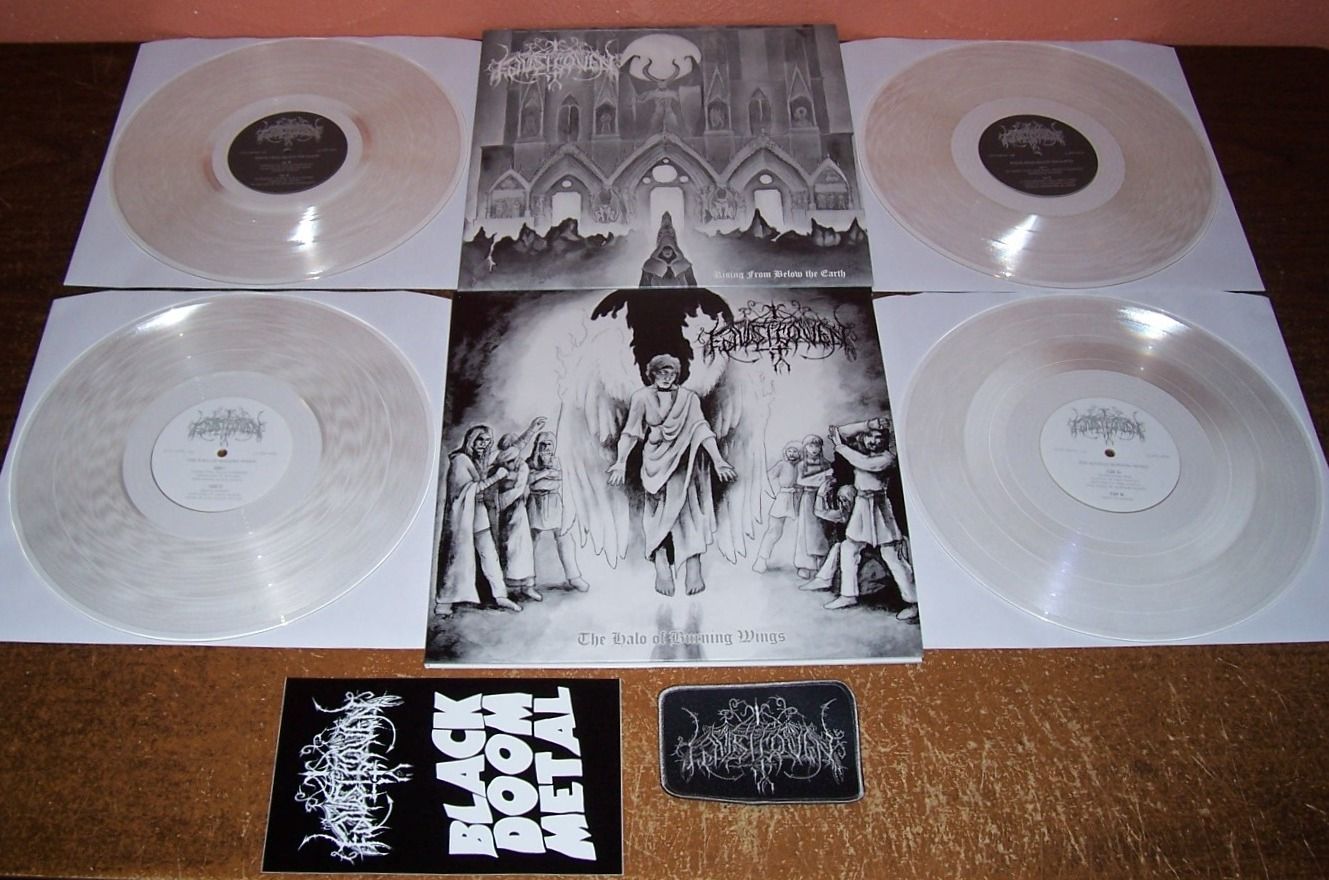 Released in 2003, "The Halo of Burning Wings" marks the first full-length release by Norway's Faustcoven. As such it represents the beginning of the band's descent into bleak and hellish landscapes inhabited by a vast array of demonic entities. For nearly a decade guitarist Gunnar Hansen has used Faustcoven as his vehicle to navigate the slowest and darkest regions of the spectrum of Black Metal. On "The Halo of Burning Wings," FC began constructing the architecture of their unique merger of Doom with second wave Black Metal. Although this particular recording is more blown out, abrasive, and mid-tempo than their subsequent work, FC's songwriting style is organic and fluid even at the most intense peaks of their attack. Lyrically, FC focuses on nightmarish imagery inspired by the originators of the horror genre in literature and film. FC expertly infuses their sound with these elements, and the lyrical content works effectively within the musical edifice to enhance the overall impact of the album. Listening to this album one is guided into the entropic domain created by the music and assaulted with horrific evil until finding oneself in the depths of FC's underworld.
Officially licensed from Barbarian Wrath Germany.
Die hard version combines both DLPs on clear vinyl with patch and sticker.
Click here to order the regular version
Click here to order the die hard version (both DLPs)
FAUSTCOVEN "RISING FROM BENEATH THE EARTH" DOUBLE LP
ANTI-GOTH 146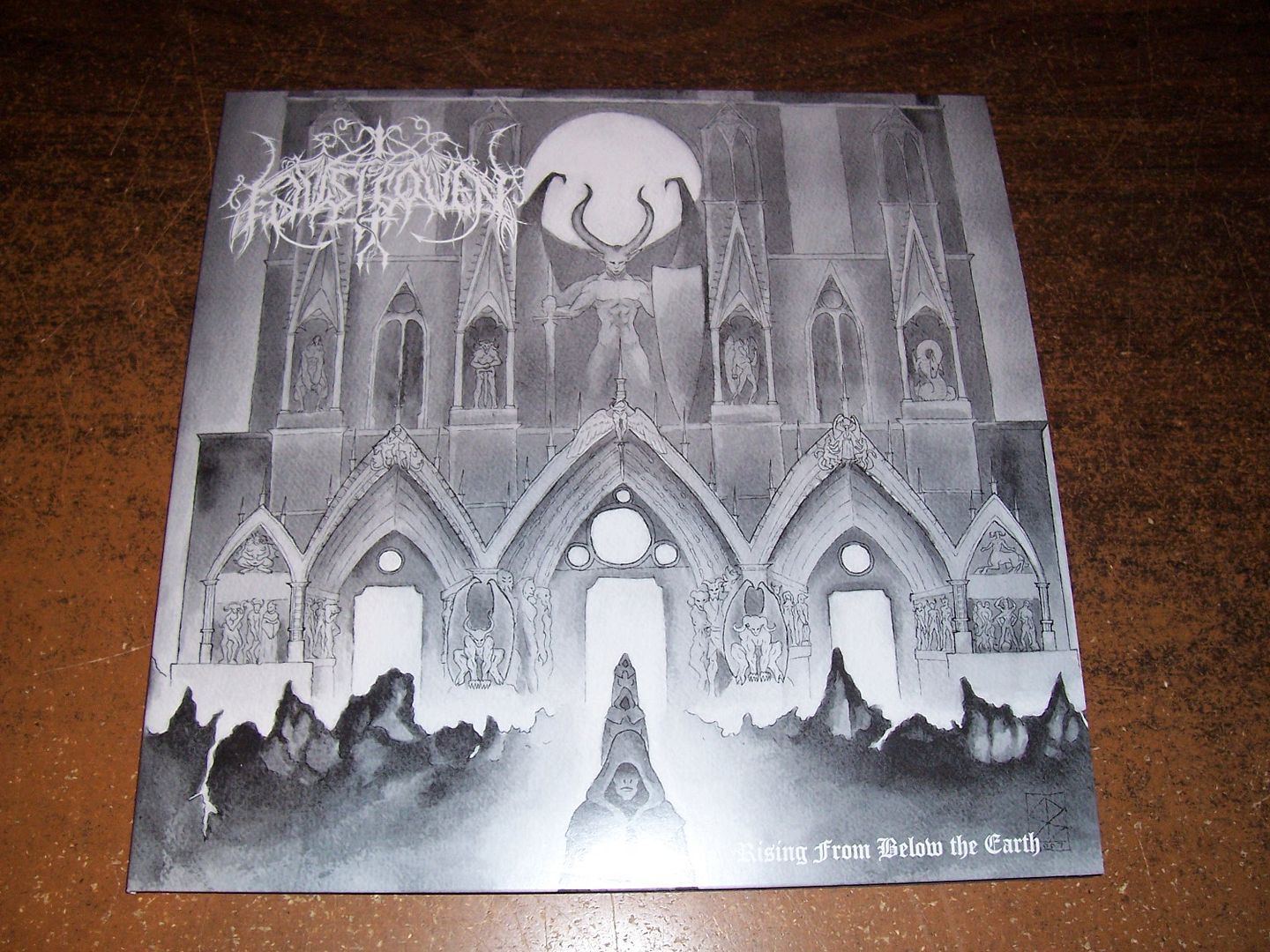 On their second album, "Rising from Below the Earth," FC further extend the perimeter of their evil shroud across a greater plane until the immensity of their blackness takes on unspeakable dimensions. After adding permanent drummer Johnny Tombthrasher to the line-up, Gunnar Hansen continues to take Faustcoven in the direction of Blackened Doom. On this album, FC delves even more deeply into the Doomier elements than on their first album. The influence of classic Doom permeates this entire recording and the resulting sound is powerful and catastrophic. However, although Faustcoven play slow, Black Metal dirges, they never stray into "suicidal" black metal territory. Similarly, even though their Doom is anguished and dark, it is never of the "funeral" doom variety. Instead, the result is something entirely unique to both genres. Indeed, FC has established a niche at the margins of both Black Metal and Doom and rests, sometimes precariously, on that border.
The devastating nature of these two albums eventually necessitated their release on vinyl and Nuclear War Now! is honored to have been granted the authority to do so. Faustcoven will also be appearing at this year's Nuclear War Now! fest in Berlin.
Die hard version combines both DLPs on clear vinyl with patch and sticker.
Officially licensed from Barbarian Wrath Germany.
Click here to order the regular version.
Click here to order the die hard version (both DLPs).