Brain Dead, Anatomia, Sanguis Imperem/Nocturnal Blood LP Out Now
BRAIN DEAD "FROM THE ECSTATSY" LP
ANTI-GOTH 122

Click on image to see more photos.
(Description by J. Campbell)
Following the release of their two demos, Brain Dead released their first and only album, "From the Ecstasy" in 1992. NWN is proud to present this album, which was previously a cassette-only release, on vinyl in conjunction with the vinyl release of their 1991 live demo. These two releases capture the transition that the band's sound underwent over their short career and demonstrate thoroughly the versatility of their work. While the Malaysian blasphemers' demos are an attack of bestial deathrash, this album displays a more calculated and technical death metal approach. For this more elaborate studio affair, Brain Dead refined and tightened their sound, but nonetheless retain the savageness for which they are customarily recognized. This transition mimics the metamorphoses that many of Brain Dead's contemporaries (particularly the Brazilian hordes) were undergoing at the same time. This widespread shift in approach often begs the question of whether so many of these bands were seeking this sound all along and were simply incapable of attaining it on their demos due to a lack of technical proficiency and access to the requisite technology, or whether they merely opted for a new more controlled sound. Such academic questions are of little value when one hears the music, however. Had any of Brain Dead's work been given the attention it deserved, their legacy would have been of a nature far grander than it has been. Indeed, Brain Dead clearly occupy the upper echelon of the music from their region of the world and present some of the finest and most bestial death metal to have emerged from that era. This album vividly illustrates this and will at last preserve Brain Dead's rightful place in the history of the underground.
Die hard version comes as 2xLP set with the "Live Demo 1991″ MLP and includes patch and sticker.
Click here to order the regular version.
Click here to order thd die hard version.
SANGUIS IMPEREM/NOCTURNAL BLOOD SPLIT LP
ANTI-GOTH 143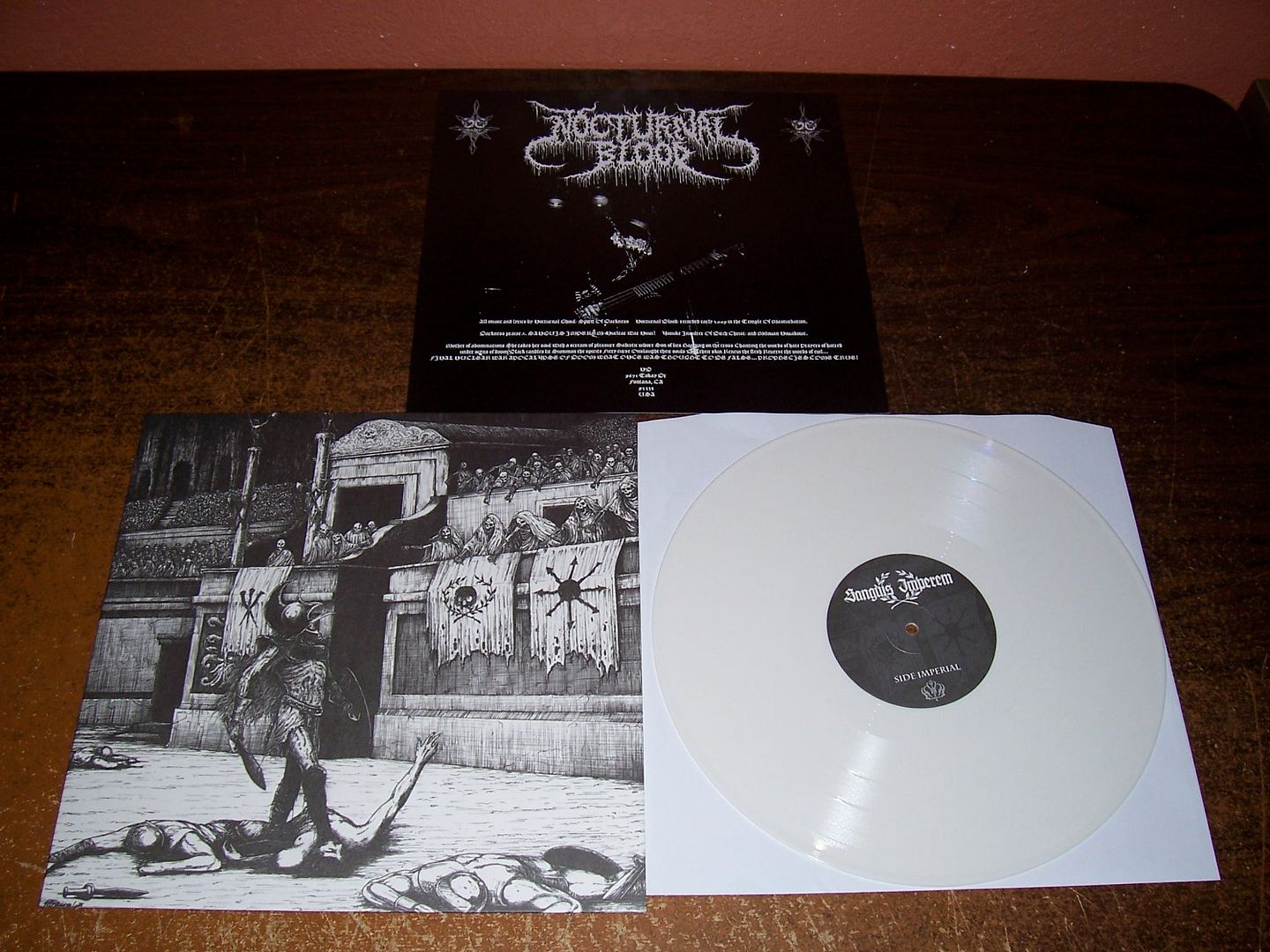 Click on image to see more photos.
(Description by J. Campbell)
Despite decades of evidence to the contrary, there is an often-voiced misconception that the environment of Southern California is not conducive to the creation of sincerely dark Black and Death Metal. Seen through the camera lens, the Los Angeles area appears too commercial, too sterile, and too artificial. Yet beneath the sun drenched skies, the entire geographical region seethes with the violence and sickness of a region that is awaiting the first outbreak of the impending apocalypse. Disease ridden and consumed by warfare, this area has already welcomed the coming dark age and radiates nihilistic decadence unlike any other geographic region in the world. This atmosphere is perfectly captured by the two bands on this split release, and the image it produces is of a world precariously balanced at the precipice of its own ruin. Importantly, the bands on this split have contributed extraordinarily strong material for this release. Perhaps it is because both bands are still in their primordial stages and therefore still feel the need to prove themselves with every release or perhaps it is because of the close relationship between the members of Nocturnal Blood and Sanguis Imperem; whatever the reason, the music presented here is the finest that both bands have yet unleashed. Although the foci of the bands may be distinct, there is an intensity that unifies the two and makes for a cohesive split LP. Nocturnal Blood is another outpouring of malefic energy by the same tormented mind that created Hate Kommand and Nuclear Desecration. With this release, Nocturnal Blood pushes this vision of unrelenting evil ever forward beyond anything the band has previously concocted. This is among the most unsettling and atrocious Black Death that the U.S. has produced in years. Sanguis Imperem, members of which often perform as live session members for Nocturnal Blood (which is otherwise a one-man project) and behind Damon Bloodstorm for the Holocaust Wolves of the Apocalypse gigs in the United States, has been among the most promising U.S. death Metal acts since the release of their incredible mCD, "The Stagnation of Centuries." With the tracks on this release, Sanguis Imperem continue to construct intricate and impenetrable walls of Death Metal terror in their uniquely martial style. Clearly drawing inspiration from Incantation and Disciples of Mockery, Sanguis Imperem integrate into their work a sense of strength and warfare that renders it among the most powerful in the current Death Metal scene. The result is epic, victorious, and devastating and the tracks on this split expand the boundaries of Sanguis Imperem's conquests. Both of these bands are poised to dominate the U.S. scene in coming years and this split presents each at the apex of their power.
First 100 orders will get the colored vinyl version.
ANATOMIA "DISSECTED HUMANITY" LP
ANTI-GOTH 150

Click on image to see more photos.
Written by Gortician for http://blooddelirium.blogspot.com
Anatomia; a seldom talked about 3 piece hailing from Japan, comprised of the backbone of the legendary Transgressor – Takashi Tanaka on drums and vocals, and Yoshio Hasegawa on guitar and vocals (both also played in Necrophile, who released a great split with Abhorer eons ago) joined by a friend – Jun Tonosaki on bass duties and vocals. Anatomia really isn't a hundred miles away from Transgressor, though I detect a much more distinct doom presence here. Slow, miserable droning passages alternate with more upbeat mid-paced sections, neither of which sounding any less heavy and crushing as the other. Any comparisons made with Mental Funeral era Autopsy are pretty much right on the money, just listen to the start of "Suicide" or "Carnal Mutilation" and you'll see what I mean. I can also pick similarities to Winter, and to a lesser extent Hellhammer. Soundwise Anatomia are heavy as fuck, dense, fuzzed out and viscous. Heavy handed drumming pounds along at a snail's pace, and seem to rely on following the riffs a good majority of the time. Vocally Anatomia has given an exceptional performance for this style of Death Metal, sickly dry heaving growls trade off with an occasionally more Demilich like liquescent / vomitous approach. The odd pitch shifted gutter gurgle moment makes an appearance too. A cool cover of Autopsy's "Stillborn" makes for a perfect way to end to the album, which Anatomia completely nail. It does great justice to the original whilst given a slightly thicker, sludgier edge. The overall substance of "Dissected Humanity" coincides with the subject matter accurately. Sordid acts of cannibalism, the undead, morgues and mutilation are in order here. It might sound cliche but it fits their sound like a glove. For some this may take a bit of patience to appreciate, but for Autopsy fans this is a definite must. It's plain as day that these guys are no newcomers to Death Metal, and along with Coffins are easily one of Japan's finest exports. To date this remains their only full length (apart from a demo, and 3 way split with the aforementions Coffins and Grudge), fingers crossed for a follow up album soon.
Updated layout with new cover artwork and hand written texts by Chris Reifert of Autopsy/Abscess. Die hard version on colored vinyl with patch and sticker.
Click here to order the regular version.
Click here to order the die hard version.