Abominator "Barbarian War Worship" Double LP Out Now
Abominator "Barbarian War Worship" Double LP
ANTI-GOTH 148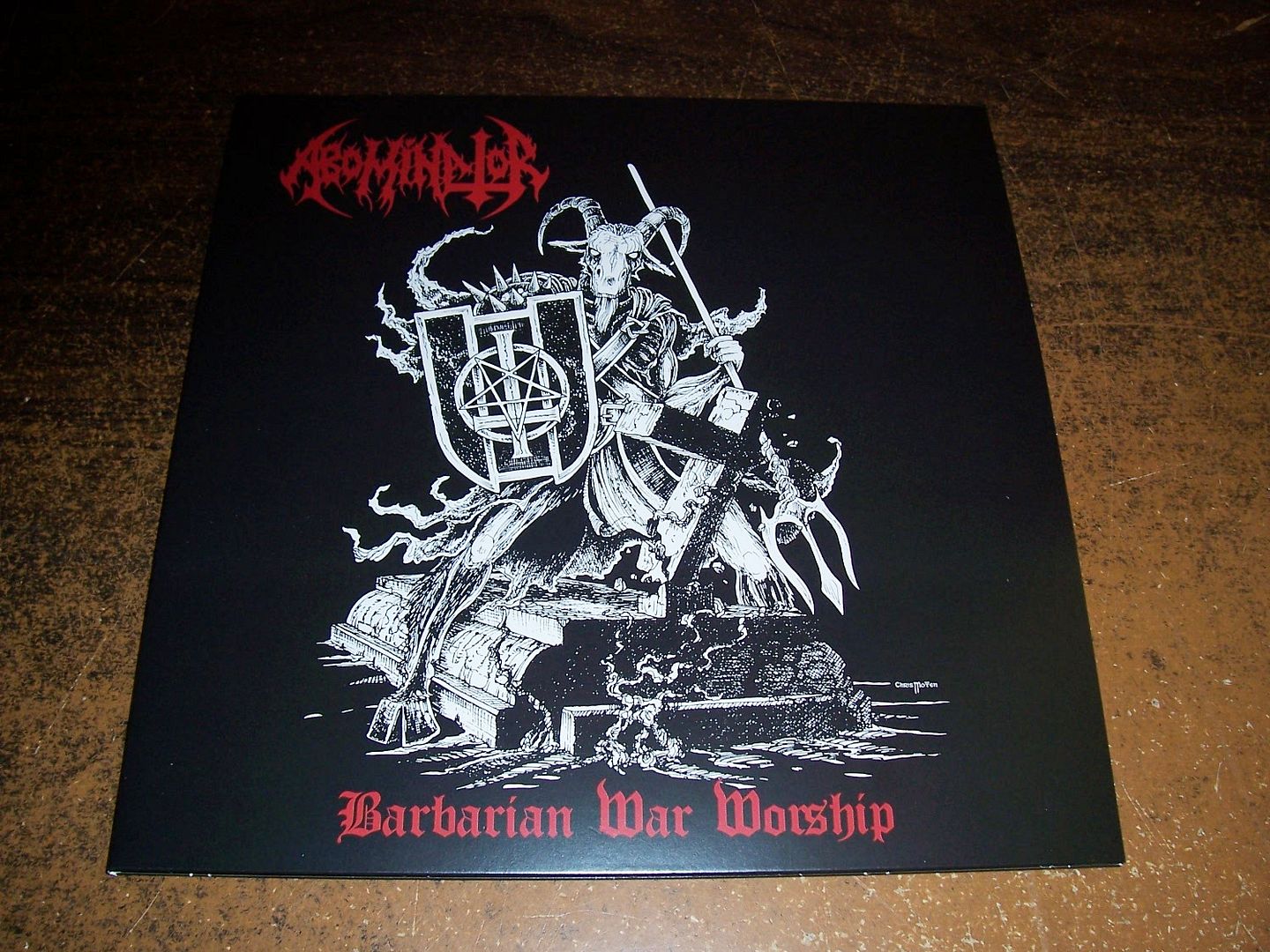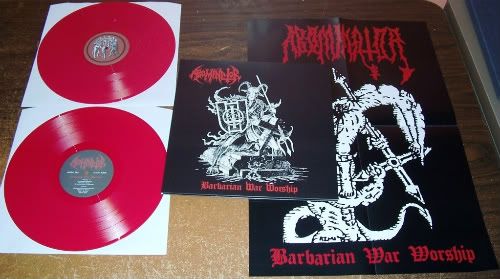 Click on images to see more photos.
In truth, there is little more one can add to describe the sound created by Australia's Abominator beyond the three words which comprise the title of their first demo: "Barbarian War Worship." This title is as succinct and direct a description of what one will find encoded in the grooves of these two LPs as could be hoped for. Indeed, the sound of Abominator is truly one of primitive barbaric violence. Abominator emerged at a time when Australia was beginning to fully define the hateful anti-christian character of the bestial black/death metal that has festered so potently throughout the region. In 1994, just 2 years after Corpse Molestation's classic "Descension of a Darker Deity" demo, Abominator released their "Barbarian War Worship" demo. This tape and the one that followed entitled "The Conqueror Possessed," pushed black metal to its most violent extremes. Along with contemporaries such as Destroyer 666 and Bestial Warlust, Abominator helped usher in a new distinctly Australian breed of bestial black metal that persists to this day. The two demos presented on this double LP reissue are easily among the most violent black/death recordings ever produced. Driven by the tremendous riffs of Andrew Undertaker (Cemetery Urn) and the incomparably maniacal drumming of Chris Volcano (Destroyer 666, Destruktor, Denouncement Pyre, Ignivomous) among others, Abominator's sound is a unique balance of chaotic and evil energy presented in a manner that is focused and precise. While many bands within this subgenre veer toward a sound that verges on being out of control, Abominator execute their attack with vengeful accuracy. The effect on the listener is the release of a flood of adrenaline into the blood that resembles the body's natural response to a state of combat. Cracked nails cut deep into the opponent's flesh as his life drains from his body in bloody streams and he chokes for his final gasps of air. The decapitated head of the vanquished is thereafter triumphantly displayed as an exaltation of Satanic power and a dark warning to those for whom a similar destiny awaits.
"Barbarian War Worship is one of the most savage and brutal demos of all time. The rabid and pulverizing attack of this volcanic eruption of black death chaos that these maniacs created is still unmatched today!" Impurath of Black Witchery
Die hard version on red vinyl includes patch and sticker. Both versions with gatefold jacket, 12″x12″ insert and A2 poster of the original BWW demo cover.
Click here to order the regular DLP.
Click here to order th die hard DLP. (I'm waiting on the patches and stickers to arrive on Thursday so nothing will be sent out until Sat. June 5th)