NUCLEAR WAR NOW! FEST VOLUME V
November 4th and 5th 2016
Postbahnhof-Fritzclub, Berlin Germany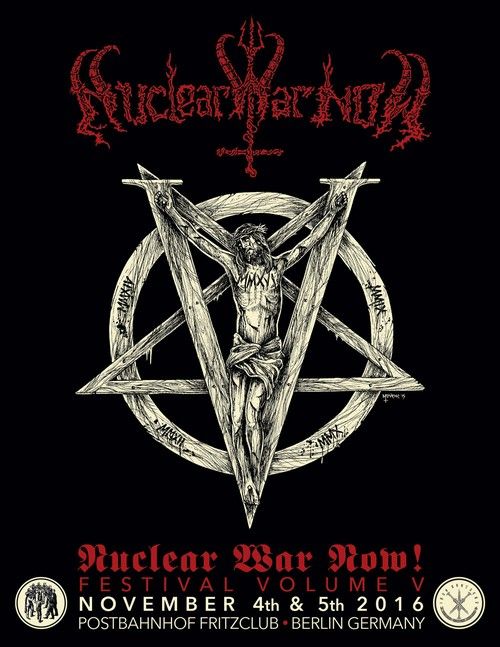 Nuclear War Now! Productions and Iron Bonehead Productions continue the campaign of terror known as the Nuclear War Now! Fest. Begun in 2009, the fest has become a mainstay of the international underground metal scene.
Confirmed:
Holocausto (Brazil)
Death Yell (Chile)
Varathron (Greece)
Incantation (USA)
Antichrist (Canada)
Mortuary Drape (Italy)
Demoncy (USA)
Vomitor (Australia)
Metalucifer (Japan)
Sabbat (Japan)
Doombringer (Poland)
Cauchemar (Canada)
Demonomancy (Italy)
Witchcraft (Finland)
Chaos Echoes (France)
Ares Kingdom (USA)
Nuclearhammer (Canada)
Irreverent (USA)
Venue info:
Postbahnhof Club
Straße der Pariser Kommune 8
10243 Berlin
Germany
Domestic customers: Your ticket will be sent by USPS First Class parcel mail with tracking.
International customers: Your ticket will be sent by USPS First Class letter mail with tracking*.
Tracking will be sent to your PayPal email address
*International tracking for USPS First Class mail is limited to countries where custom forms are scanned upon arrival at their sorting centers. Please note that the tracking will only show activities within the US for countries that do NOT partner with the USPS in this tracking system.
Official After show Party on all days @ Blackland Club.
Brought to you in conspiracy with Iron Bonehead Productions.
Sponsored by Justine Productions for videography.
https://www.facebook.com/Nwnfest